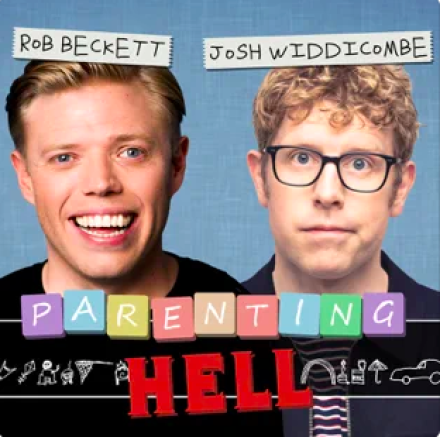 Hit podcast Parenting Hell (formerly known as Lockdown Parenting Hell) is back for Series 3, with lots of exciting new guests and hilarious chat between these two dads – which ensures that the show is constantly at the top of the podcast charts.
Since April last year, comedy pals Josh Widdicombe and Rob Beckett have been bringing together fellow parents to share the highs and lows of being a parent in these times and provide a comedy lifeline for so many. 
Previous guests include Paloma Faith, Katherine Ryan, Peter Crouch, Isy Suttie, Paddy McGuinness, Jamelia, Jonathan Ross, Jack Dee and Gabby Logan.
Rob says: "We are so happy to be back with a new series of the podcast. We had a break so we could rest up and enjoy the Euros. We had planned to be back full of energy but after the devastating defeat to Italy in the final we are more tired and broken than ever. Hopefully our pain can be the listeners' joy."
Josh says: "And please don't worry, you haven't missed any developments in our lives. Having a new born is still destroying me emotionally and physically."
Sara Wallis, TV columnist of The Mirror and The People, tweeted of the podcast:"Never mind community spirit, the absolute best thing to come out of lockdown is the @robbeckettcomic and @joshwiddicombe podcast #LockdownParentingHell. So funny. Anyway, am now off to bribe my kids with screen time and hide in the loo to eat a Jammie Dodger alone. @lockdownparent"
The podcast is produced and released by Keep It Light Media, whose slate also includes chart-topping Jon Richardson And The Futurenauts, Suzi Ruffell's hit LGBTQIA+ show Out with Suzi Ruffell,andthe NFL podcast Any Given Wednesday – with comedians Mike Bubbins (The Socially Distanced Sports Bar) and Tom Parry (Pappy's) – and the recently launched 7 Pillars with comedian Alan Davies (QI, Jonathan Creek).