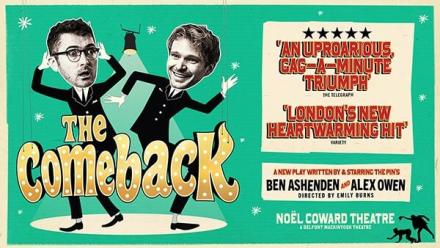 Comeback is definitely the right word here. This had barely opened in December before it closed due to lockdown. Now, this piece that started out as a modest Edinburgh Fringe show way back in 2018, returns for another short run in a big West End theatre.
It's not an extravagant show though, virtually a two-hander with minimal sets. Alex Owen and Ben Ashenden, comedy duo The Pin, play two young ambitious warm-up men opening for an ageing double act, Jimmy and Sid. Owen and Ashenden also play Jimmy and Sid as the action shuttles, sometimes at skilful lightning speed, between what is happening backstage and what is happening onstage.
As Alex and Ben run through their comic routines they realise that a showbiz bigshot is in tonight and hatch a plan to make this show their big break. Cue lots of farce-paced running around and falling about. Owen and Ashenden have terrific comic chemistry. As white middle class men they sometimes seem very much old school and about as far from contemporary comedy as you can get, but then in a way that fits in with the old school nature of the plot. 
The Comeback aims very much for the funny bone rather than something deeper, but it does touch on the often strange nature of double act relationship. The show's signature tune "Two peas in a pod" highlights the oddness of duos. Are the two sides of the same coin? Or constantly at odds as they rub up against each other? There is also an echo here of the Inside No 9 episode, Bernie Clifton's Dressing Room. Which is a curious coincidence as there is also a reference early on to the League of Gentlemen – the show featuring Inside No 9's Reece Shearsmith and Bernie Clifton.
The result is a show that is a very enjoyable way to spend an evening. The theatre protocols all felt safe and there is also the added bonus of a nightly surprise guest, echoing Morecambe and Wise's penchant for cameos. It was fellow comic Jayde Adams on the night I was in, Ian McKellen has also done it, so it's very much a lucky dip, but tasty whoever you get.
Book The Comeback until July 25 here.