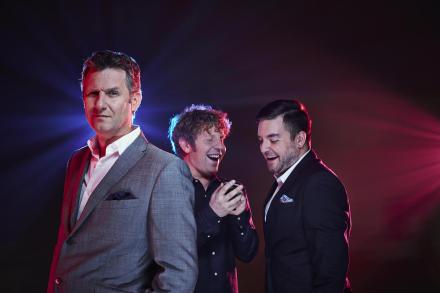 I don't know what Adam Hills, Josh Widdicombe and Alex Brooker will be talking about on tonight's show. But I can hazard an educated guess.
The England v Italy Euros final should definitely be on the agenda this week in the show and maybe in the #isitok section too. 
Particularly as the guests include David Baddiel, Frank Skinner and The Lightning Seeds (Ian Broudie) who will be performing Three Lions – they might as well do it now, maybe they will have to retire it after Sunday's final.
The latest news from the upcoming state-of-emergency Tokyo Olympics/Paralympics should also be up for discussion too. Particularly as The Last Leg started out as a programme covering the Paralympics in London in 2012.
The other guests on the show include Tom Allen, who I don't think is a huge soccer fan, although his mate and old school friend Rob Beckett definitely is. Allen is soon due to be hosting his own cooking competition called Cooking With The Stars. The series, transmitting this summer on ITV and the ITV Hub, will feature eight celebrities, each paired with an accomplished chef who will mentor, teach and take them from passionate amateur to restaurant level chefs. 
Also on The Last Leg is Sayeeda Warsi who recently appeared on Channel 4's Stand Up And Deliver, where non-comics tried their hand at stand-up for charity. Comic Nick Helm was Warsi's mentor and coach and despite their political differences it seemed to work out and Warsi won the programme and won a few freinds by having a pop at her party. Nick Helm thought he'd drawn the short straw by having to tutor a Tory politician. What on earth would they have in common? Would she even have a sense of humour? But like some corny feelgood movie she found her "Baroness Bitch" comedy chops and they bonded by the end. Not that it changed Helm's political views. 
The Last Leg, Friday, July 9, C4, 10pm.