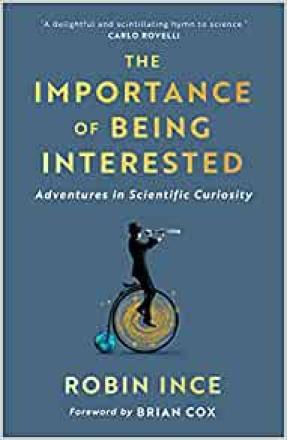 Comedian Robin Ince quickly abandoned science at school, bored by a fog of dull lessons and intimidated by the barrage of equations. But, twenty years later, he fell back in love with science and now presents one of the world's most popular science radio shows and podcasts. In the last decade, Robin has found himself immersed in science, recording almost 150 episodes of the Rose d'Or award winning The Infinite Monkey Cage whose guests have included Nobel Prize winners, apollo astronauts  and Steve Martin and going on three record-breaking world tours with Professor Brian Cox. He has seen the universe change before his eyes. 
To celebrate the publication of his new book The Importance of Being Interested, Robin is setting out on a tour of talks and book-signings at 100 bookshops in the lead up to Christmas. At each stop he will ask the booksellers to recommend the book that has spiked their curiosity the most and will create a site charting the path of the tour and the recommendations.
The book deals with some of the most daunting ideas about our universe and ourselves, charting Robin's changing understanding through personal stories as well as a remarkable array of interviewees including Apollo 9's Rusty Schweickart, ground-breaking primatologist Jane Goodall, Nobel prize winner Paul Nurse, Brian Eno, Helen Sharman and many more. 
From the glorious appeal of the stars above to why scientific curiosity can encourage much needed intellectual humility, this optimistic and profound book will leave you filled with a thirst for intellectual adventure.
Robin Ince is a multi-award winning comedian best known for co-hosting almost 150 episodes of  The Golden Rose of Montreux and The Sony Gold Award winning BBC Radio 4 series, The Infinite Monkey Cage, with Professor Brian Cox and the Book Shambles podcast on the Cosmic Shambles Network. In 2019 he performed with Brian Cox to over a quarter of a million people on their world tour which has seen them enter The Guinness Book of Records for the most tickets sold for a science show. He has co-curated and hosted many live science shows including Nine Lessons and Carols for Curious People, Brian and Robin's Christmas Compendium of Reason and Space Shambles and Sea Shambles at the Royal Albert Hall. His last book I'm a Joke and So Are You was nominated for The Chortle Book Award.
He also won Celebrity Mastermind but forgot that calcium was the dominant element of chalk and is currently trying to invent an effective satnav for people who believe the world is flat.