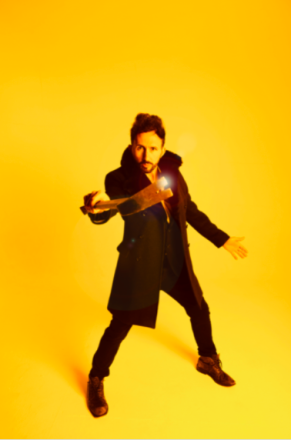 Nathan Cassidy, the only comedian to do a show at the Edinburgh Fringe last year (in the garden of the Three Sisters), has announced a run for this August.
In 'Bumblebee' Nathan pursues a burglar as his life flashes before his eyes, with individual stories coming together to answer some of his big lifelong questions, along with those thrown up by the last 18 months.  
Cassidy says: '2020 was awful for most of us, and when I found a burglar in my house I thought things couldn't get any worse.  What happened next was so incredible, so dramatic and so unexpected that I thought - well I have one thing out of this nightmare, I have my new show!  A show not about the year we've had, but of course coloured by it - it's about compliance, our love for nurses against our lack of love for the police, how we have changed, if we have changed, and the biggest question of all - what was I chasing when I chased after my burglar, and ultimately, what did I take from him?' 
Edinburgh Fringe 
Free Festival
The Three Sisters (Maggie's Chamber)
Friday/Saturday 13th/14th August 1.30pm
Friday/Saturday 20th/21st August 4.30pm
Plus, for several dates in August multi award-winning comedian Nathan Cassidy who was the only live performer at the 2020 Fringe will bring his new show Bumblebee to you!
There will be many reasons why people can't get out this August to the Fringe after the year we've all had so here's your chance to bring the Fringe to your home, workplace, garden or local park.  If you live in Edinburgh or close by all you have to do to bring the Fringe to you this year is to email and ask nicely!  
The available dates and times are Friday/Saturday 13th/14th and 20th/21st August at 7pm, timing slightly flexible to suit you.  The cost?  Not much!  There will be a Pay What You Want at the end with a % of donations going to charity and ideally you'll be a key worker or someone who has given time or money or support to someone during the Pandemic... basically just be a nice person!
​So please let Nathan know who you are and why you'd like the Fringe brought to you by emailing [email protected]  
Nathan is double vaxxed, will be negative Covid tested on the day and ready to go!  He can come to a house, a park, a back alley, wherever you like, and preferably a small group of 4-20 - friends, family, work colleagues, anything goes.  
Picture: Andy Hollingworth