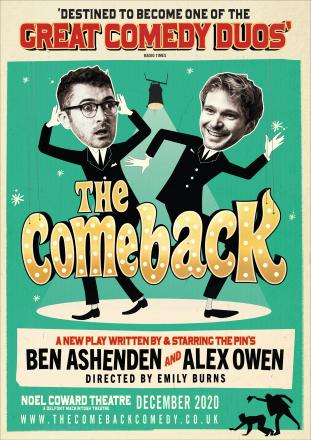 The London reopening of comedy sketch duo The Pin's acclaimed show The Comeback at The Noel Coward Theatre has been slightly delayed due to a cast member being required to self-isolate.
The run was due to start on July 7 but will now start on July 10. Ticket-holders for those first dates will be able to change their tickets. If you haven't already been contact contact the point of purchase.
It has not been revealed who is isolating but there are only two cast members – Alex Owen and Ben Ashenden, who are joined by a special surprise guest each night. Guests in past shows have included Ian McKellen.
The show first started out on the comedy circuit and at the Edinburgh Fringe before being picked up by producer Sonia Friedman. 
Up-and-coming comics Alex and Ben have been booked in the warm-up spot for a beloved but fading double act's comeback tour. Neither duo is delighted to be playing to a sparse crowd in a sleepy, seaside town, but when it's revealed that a Hollywood director is in the audience, both acts glimpse a final chance for their big break. Cue sabotage, mistaken identity and full-on farcical mayhem, as the performance descends into a desperate battle for the limelight. With the action alternating between offstage and on, and the tone between Noises Off and Morecambe and Wise's old-school charm, this is a warm-hearted, joyful, and dazzlingly funny new comedy.
The show was originally due to start its run last December only to be forced to close soon after it had opened due to the pandemic 
The show will now run as planned until July 25 with some extra shows added in.
Buy tickets for The Comeback here.
Read an interview with The Pin here.