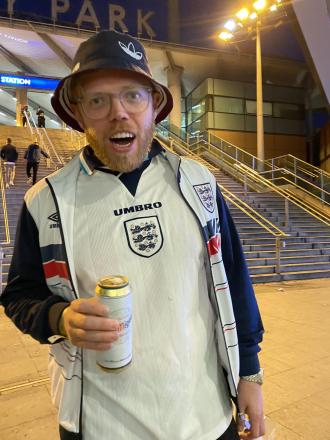 We don't know how they managed to bag tickets but a number of comedians including Rob Beckett saw the England v Germany game in the flesh at Wembley Stadium along with around 45,000 other football fans.
It wasn't only Prince George, David Beckham and Ed Sheeran in the crowd cheering on Harry Kane & co as they beat Germany 2:0. Rhys James, Rob Beckett (pictured), Last Leg star Josh Widdicombe, Ivo Graham, Lloyd Griffith and Charlie Baker were among the stand-ups at the match. As you can see from the picture here, tweeted by Rhys James, Rob Beckett certainly seemed to enjoy himself. After the match Beckett tweeted: "It ain't coming home. It's already here."
Later in the night, around 1am Beckett updated fans on Tik Tok with a police van in the background: "How was your night? I'm eating chicken in the street in front of police cars at 1 am. It was a great night...I don't want to be arrogant. I've done a lot in my life comedy wise...Royal Variety, Hammersmith Apollo, done alright for myself. But do you know what, it's quite a good thing to make people realise, no matter how well you've done you'll always eat KFC in the street. KFC next to a fucking bin as the police reverse into you. Just remember you'll be on the floor eating chicken. But as long as you're enjoying it, good luck to ya."
Oh and Three Lions stars David Baddiel and Frank Skinner were inevitably reunited at the game. Baddiel tweeted a picture of the two of them together and wrote: "So…it's been a while since we were here for this particular fixture. #ENGGER"
Spare a thought however for UK-based German comedian Henning Wehn who was one of the few German fans at the match. Earlier in the day before kick-off Wehn had tweeted: "Very busy morning composing an "Attention Tommy! For you this tournament is over!" tweet to be sent later this evening.." That didn't date very well.
Picture of Rob Beckett: Rhys James/Twitter