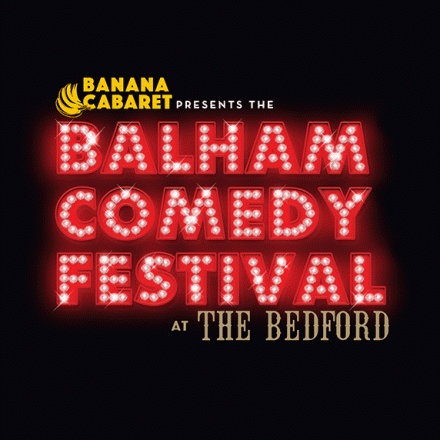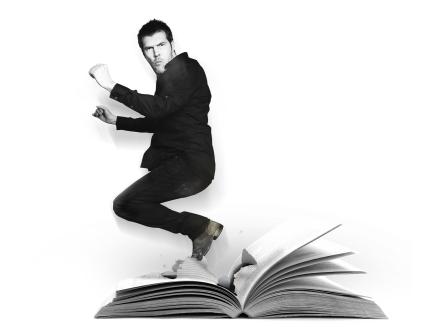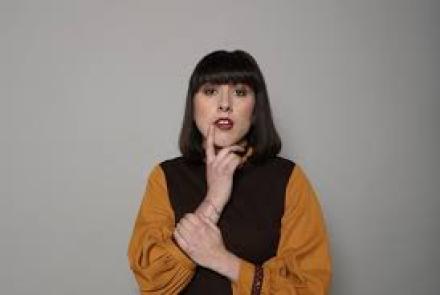 Despite restrictions not being eased, The Balham Comedy Festival at The Bedford will still go ahead from 9th -18th July.
The event will now be socially distanced to comply with Covid 19 safety regulations. Balham's 
Banana Cabaret, the longest running UK comedy club in its original venue, was adamant covid couldn't stop comedy any longer.
Festival organiser, Banana Cabaret's Dave Vickers said: "We've been at The Bedford for 38 years. Stand up is our lives and our livelihood. We didn't want to miss a moment more. Londoners deserve a serious dose of comedy after the last year and we can't wait to give it to them!"
Comedy goers are also strongly encouraged to make a night of it and enjoy dinner and drinks in The Bedford's iconic club Room which has previously hosted top music as and comedy performances from the likes of Ed Sheeran, Jorja Smith, Eddie Izzard and Jack Whitehall. There are even 15 luxury hotel rooms should comedy fans wish to stay the entire evening.
Balham Comedy Festival tickets can be purchased from balhamcomedyfestival.com. Prices start at just £10 plus booking fee. Please note show times and prices do vary.
Actsthis year include  Henning Wehn, Dane Baptiste, Naomi Cooper, Rich Hall, Janey Godley, Marcus Brigstocke, Kae Kurd and Maisie Adam with the superb Rhod Gilbert bringing the festival to a close with his full tour show.
BALHAM COMEDY FESTIVAL 2021 / 9-18 JULY / FULL LISTINGS
FRIDAY 9th - BEST OF BANANA CABARET - Door 7pm / Show 9pm-11pm / £16 + bf
ANDY ASKINS
Andy Askins is a distinctive, original talent and highly sought-after headliner. And comics love him! A talented musician with an expertly crafted routine, Andy has audiences in the palm of his hands.
TV appearances include Comedy Central's The Comedy Store & The World Stands Up, The John Bishop Show & The John Bishop Christmas Show. Andy is also one of a very select group to be awarded the Afghanistan campaign medal for his contributions which included several tours to soldiers operating on the frontline.
"One of my all-time favourites." - JASON MANFORD
STEVE HUGHES
Catch the highly-anticipated return of Australian comedy legend Steve Hughes, known the world over for his hard-hitting, take-no-prisoners stand up. Free-thinking, intelligent, opinionated; Steve will be doing what he's always done best; making the uncomfortable acceptable and the horrifying hilarious.
"His insights are spot on, his opinions intelligent, his jokes top class." - THE GUARDIAN
SPECIAL GUEST – A comic who cannot be named…
SATURDAY 10th - BEST OF BANANA CABARET - Door 7pm / Show 9pm-11pm / £16 + bf
PAUL TONKINSON
The invincible and versatile Paul Tonkinson has long held his esteemed reputation as one of the finest standups in the business. Paul has travelled extensively to all the major international comedy festivals and, as Michael McIntyre's special guest on UK and world tour, played to millions across the globe. Erstwhile presenter of Chanel 4's Big Breakfast, TV credits also include Michael McIntyre's Comedy Roadshow, Comedy Central's The Comedy Store, and The World Stands-Up.
"Excellent, extremely talented, brilliant." - TIME OUT
MAISIE ADAM
Rising star Maisie Adam's anecdotal material and witty charm quickly won her recognition. She is only the fourth woman in its 30 year history to win the prestigious So You Think You're Funny. She then went on to win the Amused Moose National Comic Award. Maisie appears on Mock the Week, Have I Got News For You, QI, Roast Battle, 8 Out of 10 Cats, Hypothetical, The Stand-Up Sketch Show and The Last Leg.
"Go see Maisie now and have bragging rights for years to come." - THE HERALD
KAE KURD
Praised for "championing the alternative voice", smart, sharp and brilliantly astute, Kae Kurd is a young British-Kurdish standup recognised as one of the UK's fastest rising stars.
His debut special, 'Kurd Your Enthusiasm' received over 100k views on YouTube and his new tour 'The Spoken Kurd' has dates selling out in record time. Seen on Live at the Apollo, Don't Hate the Playaz, The Tez O'Clock Show, Know Your Rights, Comedians Solve World Problems, Three Guys Eat and Big Comedy Night.
"Soon to be a household name." - EVENING STANDARD
OLA
Ola is a young, driven and hugely talented artist, renowned for his intelligent, edgy humour. He is eminently likeable, his calm gravitas commanding attention as if by mesmerism.
Ola has also built an enviable presence on TV, and social media platforms, winning fans far and wide. His most recent special 'The Comedian and his Future Wife' received 5 stars at the Edinburgh Festival. He's also a core cast member and writer on London Live's pilot 'Sniggers with Attitude'.
"An infectiously playful spirit." - CHORTLE
MONDAY 12TH - SOLO SHOWS
SHAPPI KHORSANDI - Work in Progress - Door 6.30pm / Show 7.30pm-8.30pm / £12 + bf
Comedian, author, columnist, cultural icon, Shappi Khorsandi is a woman of many parts. Brandishing her 'spit and sawdust comic' credentials proudly, the live stage is her natural element.
You'll have seen and heard Shappi on countless TV and Radio shows, like Mock The Week, QI, Have I Got News For You and 8 Out of 10 Cats, but it's on a live stage where she truly shines. Top comedian and all-round delight, Shappi's a one-woman rollercoaster of irrepressible fun.
"Makes live comedy thrilling." - EVENING STANDARD
MARCUS BRIGSTOCKE - We're back baby! - Door 9pm / Show 9.15pm-10.15pm / £16 + bf
Balham resident and master of satirical comedy Marcus Brigstocke has A LOT he wants to talk about. He is blisteringly funny over a wide range of topics including; climate change, religious extremism, immigration, loans companies, the Special Relationship, compensation culture, women's magazines, The EU and David Blaine, not to mention his own personal battle against his middle class roots.
A major comedy, writing and acting talent, BBC Radio 4 has become a second home to him, he has impressive list of TV credits, and critical acclaim in the West End.
"If you haven't seen him live, then you haven't seen him at his very best." - THE MIRROR
TUESDAY 13TH - SOLO SHOWS
PAUL FOOT - Baby Strikes Back! - Door 6.30pm / Show 7.30pm-8.30pm / £12 + bf
Paul, now a fully-disqualified swan psychologist, delves deeper to discover the origins of the gay sperms and once again unleashes his bag of Disturbances. Baby has a plan. Baby never lose. Baby bounce back!
Paul has been described as a 'comic genius' by no less than six national newspapers, and 'surreal' by pretty much everybody who has ever seen him. He is a multi-award-winner and -nominee, with uncountable appearances on TV and radio and an international following.
"Sublime, original and brilliant." - THE INDEPENDENT
HENNING WEHN - Das Neuen Materialen Nachten - Door 9pm / Show 9.15pm-10.15pm / £16 + bf
Join the German Comedy Ambassador for Teutonic jolliness at its best. Expect some old favourites and an unbiased look at everyone's favourite topic of conversation: a certain virus. Some might call it work-in-progress but Henning prefers to describe it as masterpiece-under-construction.
Henning's most recent television and radio appearances include Have I Got News For You, Would I Lie To You, Live At The Apollo, Question Time, 8 Out Of Cats Does Countdown, Radio 4's The Unbelievable Truth.
"Dazzlingly funny." - THE TIMES
WEDNESDAY 14TH - SOLO SHOWS
DANE BAPTISTE - Work in Progress - Door 6.30pm / Show 7.30pm-8.30pm / £10 early bird + bf
Original, provocative and exceptionally prolific, Dane is now one of the hottest names in British comedy, making history in 2014 as the first Black British act to be nominated for a comedy award at the Edinburgh Fringe Festival. His smash hit pilot "Bamous" aired on BBC1 in 2021, charting in the Top 10 comedy TV ratings the week of its release.
TV credits include Live at the Apollo, Mock the Week, 8 Out of 10 Cats Does Countdown, The Stand Up Sketch Show, Black, British and Funny, Frankie Boyle's New World Order, Roast Battle, Live from the Comedy Store and more.
"Powerful and persuasive." - FEST MAGAZINE
RICH HALL - Live - Door 9pm / Show 9.15pm-10.15pm / £16 + bf
Described as a transatlantic messenger, award-winning Montana native Rich Hall is renowned for his expertly crafted tirades, quick-fire banter and musical sequences.
He fronted the hugely successful BBC 4 documentaries Rich Hall's Red Menace, Rich Hall's Working For The American Dream, Rich Hall's Countrier Than You, Rich Hall's Presidential Grudge Match, Rich Hall's California Stars, Rich Hall's You Can Go To Hell, I'm Going To Texas, and Rich Hall's Inventing the Indian.
As seen on QI, Live At The Apollo and Have I Got News For You, he also wrote and starred in the reoccurring Radio 4 show Rich Hall's (US Election) Breakdown, and has penned articles for The Guardian and The Sunday Times.
"Blissfully funny." - THE GUARDIAN
THURSDAY 15TH - SOLO SHOWS
JANEY GODLEY - Unlocked - Door 9pm / Show 9.15pm-10.15pm / £14 + bf
Godmother of Scottish comedy Janey Godley does standup like you've never seen before!
The multi-award-winning comedienne, playwright, award-winning blogger, best-selling author and former Scotsman newspaper columnist has performed around the world including off-Broadway in New York.
A regular on BBC Radio 4's Just a Minute, and hot from appearances on Have I Got News for You and Scotland's Breaking the News, Janey boasts over 40 million hits online and regular sold out shows at Edinburgh and Glasgow comedy festivals.
"A fu%king great comedian." - BILLY CONNOLLY
BOOTHBY GRAFFOE - Untitled - Door 9pm / Show 9.15pm-10.15pm / £12 + bf
Boothby Graffoe is a surreally funny man and a formidable musician. No comedian quite has his knack for leading an audience up the garden path or more consistently leaving them literally aching with laughter. No comedian will pass up the chance to watch him in action.
Boothby has written for Omid Djalili's two award-winning BBC series and toured with him as well as with superstar guitarist Antonio Forcione. He also frequently tours as support with Canadian supergroup Barenaked Ladies.
"Watching this guy is just a really great way to spend an evening." - NEW YORK TIMES
FRIDAY 16th - BEST OF BANANA CABARET - DOOR 7pm / SHOW 9pm-11pm / £16 + bf
ED BYRNE
It's primarily Ed's live work that has built up legions of fans both in the UK and abroad. He's widely considered the observational standup to see.
Ed Byrne became a household name from TV, radio and stage appearances now including, The Pilgrimage, Top Gear, QI, Dara & Ed's Road to Mandalay, Dara & Ed's Big Adventure, Mock the Week, Graham Norton Show, Have I Got News For You, and Live at the Apollo. He presented Comic Relief Bake Off, and was a contestant on BBC 1's Celebrity Best Home Cook. With a passion for the outdoors, Ed has recently launched his walking and talking podcast: Ed Venturing on YouTube (also on his website).
"At the height of his powers" - THE OBSERVER
NAOMI COOPER
Naomi Cooper has really hit her comic stride over the last year becoming a viral sensation with her Yummy Mummy Philippa videos. A multi-talented performer, she's a seasoned standup comedian, accomplished improviser and classically-trained actor. Her star is most definitely in the ascendant.
She performs across the UK and Europe, appeared at various prestigious comedy festivals, and supported Jeff Garlin, of Curb Your Enthusiasm and The Goldbergs, for the duration of his extended sold out Soho Theatre run, and the Laugh Factory and the Hollywood Improv shows in LA.
"A comedy badass. Naomi Cooper is funny." - JEFF GARLIN
 
BEN NORRIS
Renowned for his incredibly relaxed stage persona, Ben is a highly experienced and highly well-respected standup. He consistently delivers sharply crafted material, and his innate, exquisite improvisational skills are the envy of his peers.
Ben has written and performed solo shows at the Edinburgh Festival, and acted in the play "The Last Minutes", broadcast on Radio 4, developed with the Comedians Theatre Company. TV credits include Mock the Week, The Comedy Store, Never Mind the Buzzcocks and They Think It's All Over.
"Unbelievably brilliant" - JASON MANFORD
TOM LUCY
With a relaxed and easy stage presence and likeable, chatty style, Tom Lucy has established himself as one of the most exciting new comedians around.
At 16 he quickly rose through the comedy club circuit to become one of the youngest professional standup comedians in the world. He tours internationally, picking up rave reviews and boasting a sell-out show at the Leicester Square Theatre during his first headline UK tour in 2019 and supported Jack Whitehall on his enormous UK arena tour.
As seen on Dating No Filter, Stand Up For Live Comedy, Roast Battle, Stand Up Central and many more.
"Believe the hype, this guy is hilarious." - JACK WHITEHALL
SATURDAY 17th - BEST OF BANANA CABARET - DOOR 7pm / SHOW 9pm-11pm / £16 + bf
ED BYRNE – see previous details.
"At the height of his powers" - THE OBSERVER
YURIKO KOTANI
Effortlessly appealing as she steps on stage, Yuriko Kotani is a UK-based Japanese comedian giving a wry take on the British, our mannerisms, language, and fondness for the adverb "-ish".
Named "One To Watch" by Time Out, Yuriko also won the BBC New Comedy Award.
TV credits include Russell Howard's Stand Up Central, BBC3's Please Like It, CBBC's The Dog Ate My Homework and Paul Hollywood Eats Japan. Radio credits include The Comedy Club, The Arts Hour International New Year Comedy Celebration, The Verb and Loose Ends.
"The left-field rising star." - TIME OUT
ADAM BLOOM
Multi-award-winning Adam Bloom is one of Britain's most original and inventive comedians, hugely in demand and performing the world over.
With seven sell-out solo runs at The Edinburgh Festival, and a 29-date sell-out tour of the UK, Adam broke box-office records for any comic's first ever appearance at The Melbourne International Comedy Festival. He's Banksy's go-to comedian and writer on a range of collaborations, and has many TV credits too.
One of the UK's most prolific comedy writers, Adam has written and performed three series of 'The Problem with Adam Bloom' for BBC Radio 4, and provided additional material for over 40 comedians, including an Oscar and BAFTA nominee, a Perrier Main Award Winner and Royal Variety Performance acts.
"A light-speed wit, focused over years at the pinnacle of stand-up." - CHORTLE
IMRAN YUSUF
Renowned as a skilful raconteur who can seamlessly weave socio-political satire with heartfelt introspection into his charming and endearing trademark style, Imran Yusuf is a languid, punchy, cheeky and utterly loveable comedian. He has been a pioneering voice in the world of modern British comedy and across the world, racking up 7 million hits on YouTube!
"Sharp, passionate and uplifting." - THE TELEGRAPH
SUNDAY 18th - FULL TOUR SHOW - DOOR 6.30pm / SHOW 7.30pm-9.30pm / £20 + bf
RHOD GILBERT - (Blowing the cobwebs off) THE BOOK OF JOHN
Following a seven-year break from stand-up the multi-award-winning comedian returned to the stage in 2019 with his acclaimed new live show; The Book of John. After a further hiatus (for obvious reasons), join the Welsh wonder as he blows the cobwebs off ahead of the national tour resuming.
A lot has happened to Rhod since he last toured.  Almost all of it s**t. And just when he thought he'd hit rock bottom, he met a bloke...called John. This show sees Rhod raw, personal and brutally honest. As funny as ever, this is Rhod, but different, the same, but not. 
As seen on Rhod Gilbert's Work Experience, Rhod Gilbert's Growing Pains, Would I Lie to You?, Taskmaster, Qi, Live at The Apollo, Have I Got News for You? and much more.