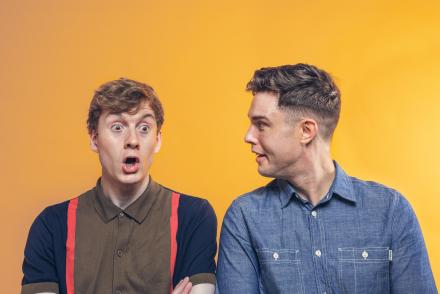 The Southbank Centre has announced that for the first time ever, Ed Gamble and James Acaster's hugely popular 'Off Menu' podcast is set to make its live debut at the Southbank Centre's Royal Festival Hall on Friday 30 July 2021. The centre also announces the return of 'The Guilty Feminist: Live with Deborah Frances-White' (10 & 11 Sep, Queen Elizabeth Hall), 'The Horne Section: That's How I Like My Tour' (26 Nov, QEH) and 'Jenny Eclair: Sixty! (FFS!)' (11 Feb 2022, QEH).
Update 2/7/21: An extra date has been added for Off Menu with James Acaster and Ed Gamble on Sunday 1 August, due to popular demand. Tickets are now on sale at the same link below.
Since launching in December 2018, the award-winning Off Menu has become one of the biggest podcasts in the country, regularly topping the podcast charts and being downloaded over 55 million times. In the podcast's first ever live show, comedians Ed Gamble and James Acaster speak to a special guest to be announced about their favourite starter, main course, side dish, drink and dessert.
The comedy programme continues with Deborah Frances-White who brings a live reimagining of her hit podcast, 'The Guilty Feminist'. With over 70 million downloads since its launch in late 2015, the podcast sees Frances-White discuss the noble goals of 21st-century feminists with her guests, while confessing their insecurities, hypocrisies and paradoxes. This live show of the comedy phenomenon includes stand-up, music, local guests and a few special surprises. The Horne Section returns to the Southbank Centre for their one and only 2021 tour, bringing their trademark comedy, improvisation and music from their hit BBC Radio 4 show. The evening of comedy and outstanding musical performances is led by Alex Horne, the creator and co-host of the Bafta- and Emmy-nominated 'Taskmaster'. With her latest touring show, award-winning comic Jenny Eclair confronts "a new decade of decrepitude" in 'Sixty! (FFS!)'. Eclair's return to the Southbank Centre follows the success of her acclaimed 2016 stand-up show 'How To Be A Middle Aged Woman (Without Going Insane)'.
Pax Lowey, Comedy Programmer, the Southbank Centre, said: "It's so wonderful to be welcoming comedy lovers back to the Royal Festival Hall and the Queen Elizabeth Hall later this year — and we're incredibly excited to open the comedy programme with the first ever live recording of Off Menu with Ed Gamble and James Acaster. After such a turbulent year, we're all in need of a good laugh."
Comedian James Acaster, said: "I can't wait to finally meet Ed and The Great Benito in person. It's gonna be a night to remember."
Tickets go on sale to Members on Thursday 24 June at 10am and on general sale Friday 25 June at 10am.
Info and tickets can be found here.
Picture of James Acaster and Ed Gamble: Paul Gilbey