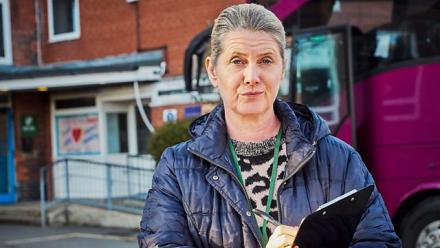 I'd slightly gone off Motherland in series two. It has started off so well with Liz (Diane Morgan) talking about keeping cheese in the freezer in the very first outing. Maybe after this it got too close to home, maybe it wasn't funny enough. And then series three started the same Monday night as the new Inside No 9 and I didn't quite pay attention. But over the weekend I caught up with episode 4 and it really is back on form.
While Inside No 9 has cornered the market in the self-contained storyline, this episode - in which the kids and various mums go on a school coach trip bossed over by monstrous Mrs Lamb (played by one-time stand-up Jackie Clune, pictured) - felt very much like an object lesson in sitcom storytelling. Everyone has their own personal subplots and they were all beautifully played out without any fat on them whatsoever.
There are surprises along the way too. Needy Alpha mum Amanda (Lucy Punch) and weedy Kevin (Paul Ready) suddenly getting the hots for each other was certainly a curveball I didn't see coming. Then there is Julia (Anna Maxwell Martin) having the rather obvious hots for her builder Garry (Robbie Gee) which is less of a surprise.
Meanwhile there was genuine emotion with Meg (Tanya Moodie) getting the all clear from cancer. Some people have criticised this storyline for being resolved too quickly, but this is a comedy, things move faster than in the real world. Do you know what? Nobody keeps cheese in the freezer in the real world either. Not anyone at my school gates anyway, though I've met a few people like dippy Anna (Philippa Dunne) in my time hanging around playgrounds.
And needless to say the performances are all great. Big shout outs in particularly to Anna Maxwell Martin and Paul Ready who could not be more different to their serious roles in Line of Duty and The Terror. Now that's what I call acting.
Motherland, Mondays, 9pm, BBC Two and all available on iPlayer here.
Picture: BBC/Merman