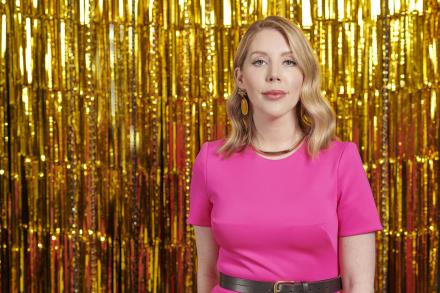 Comedian Katherine Ryan has confirmed that she is pregnant with her second child.
She appeared onstage at the Kentish Town 02 Forum in a tight dress that clearly revealed that she was expecting a baby.
Ryan was onstage recording her podcast Telling Everybody Everything.
This ends recent weeks of speculation when Ryan appeared on television shows and fans have commented on her appearance on social media. 
When Ryan has appeared on shows including Game of Talents and 8 Out of 10 Cats Does Countdown social media has suggested various reasons for her change of appearance. Some suggested it was cosmetic surgery. Some suggested an allergy to something may have caused some swelling. Some did wonder if she was pregnant.
What made it even more perplexing was that the programmes she appeared on were not shown in the order they were filmed. So in one programe, such as Game of Talents, it looked as if there was a bump, in others that may have been filmed earlier it looked as if there wasn't a bump. Some fans wondered if it was just down to the different dresses Ryan was wearing.
Katherine Ryan's partner is Bobby Kootstra, who she first met when she was growing up in Canada.
It has recently been anounced that Ryan will be hosting the second series of All That Glitters. She also has a book and a tour scheduled for later this year. No date has been given for the birth and at the moment her tour dates are staying as scheduled.
Ryan is also set to host a brand-new dating game show called Ready to Mingle. A 19-part series will be made for ITV2.
Arriving on the channel this autumn, Katherine will preside over the series which follows a single girl in the search for her perfect partner, as twelve male suitors compete for her affections and the chance to win a big money prize. 
But in a mischievous twist, not all the boys are single, with a number of them being guided by their partners in pursuit of the prize. Taking up residence in a luxurious house, the single girl will get to know all the boys through activities, games and dates, eliminating each boy one-by-one until her 'dream man' remains. 
In other news Josh Widdicombe, who co-hosts the Lockdown Parenting Hell podcast with Rob Beckett, has become a father for the second time.