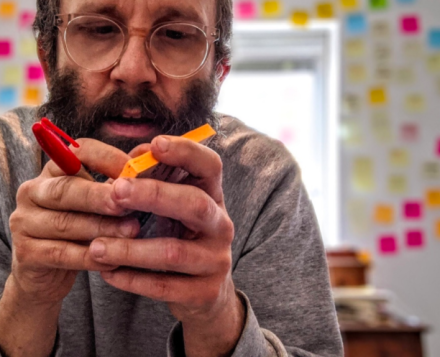 Daniel Kitson's Bandcamp account appears to have been compromised so he is telling his fans not to buy anything from the account at the moment.
He explained the situation in his Newsletter which has also been forwarded to the media by Stewart Lee.
Kitson wrote: "Over the last couple of days, quite a few of you bought the newly
released recording of the old show which briefly placed that show on the
front page of Bandcamp as the thing that was currently selling most and
that seems to have attracted the attention of someone extremely naughty.
This morning, when i tried to log into my bandcamp account, my password
took me to the account page for daniei kitson (note the i where the L
should be) and not long after that i received a notification email that
the paypal account for my page had been changed and then, finally all
emails stopped coming. Which means not only is someone draining the
sweet kerchingles but i am also unable to change the page or even access
the account.
I've contacted bandcamp through the website but there seems to be no way
of doing so with any speed and even once they get the emails their
replies may be intercepted by the same naughtiness - so i'm sending this
just to say.
DONT BUY ANYTHING FROM MY BANDCAMP PAGE UNTIL FURTHER NOTICE.
It's a very unsettling feeling to know that someone else has control of
my bandcamp account, my listings page and presumably, all the
recordings. I'll get it all sorted soon enough, i imagine, after which,
i'll dingle you again to let you know but currently this seems to be the
only steps i can take with any alacrity."