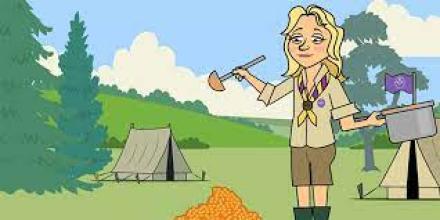 THE GREEN & PLEASANT GUIDE is a brand new animated comedy web series about the weirdest place in the entire world... the British countryside.
Imagine chucking Look Around You, Countryfile and South Park into a giant thresher. The resulting mulch is this funny little web series, in which our perma-smiled presenter reveals all you need to know about the Great British CountrysideTM, from its vengeful cows to its world-renowned dogging.
The show stars Celeste Dring, one half of acclaimed sketch duo Lazy Susan (BBC Three) and a regular on comedy series like The Windsors, This Country, Ladhood and Wanderlust.
Other voices are provided by Amy Gledhill of The Delightful Sausage (as seen on Harry Hill's Clubnite and heard on BBC Radio 4) and host of the hit podcast A Lovely Time; and Luke Rollason, from Stepdads (winners of the Brighton OtherPlace Award) and star of the viral smash Channel 4 sketch This Man Believes He Is 7ft Tall (over 20 million views so far).
Artwork and animation is by Benpics, known for his hugely-popular podcast animations for the likes of Athletico Mince (starring Bob Mortimer), Adam Buxton and John Finnemore. And the show is created, written and produced by current nobodies Will Noble and Joe Reaney.
"The countryside is a friendly and welcoming place," says presenter Daisy Butterworth. "Just as long as you always stick to the footpath, never smile at a cow and generally avoid invoking Mother Nature's wrath. And for f*ck's sake, don't tell anybody you're from London".
The four short episodes in the first series are RAMBLING, COWS, CAMPSITES and STATELY HOMES. Rambling is released on Friday 28 May 2021 on the show's YouTube channel, with subsequent episodes scheduled to come out each Friday after that (4, 11 and 18 June).
Watch a trailer and subscribe below