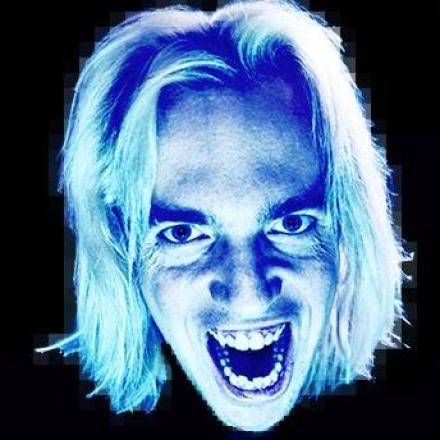 John Robertson is taking on the herculean task of a 50 Hour online Twitch marathon for charity
From 8pm BST May 28th – 10pm BST May 30th, award-winning comedian and streamer John Robertson is doing a 50 hour online version of his interactive gaming stand-up show THE DARK ROOM, raising money for Refuge domestic violence charity, NHS Charities Together and Centrepoint youth homelessness. Here's the trailer.
In 2020, John's Twitch fundraising raised £49,000 for charity. The signature show was a 48-hour marathon special. This year the marathon's bigger:
"It's 50 hours because I thought if NHS workers were only getting a 1% pay raise, the show should be 1% longer. Unfortunately, I'm bad at maths. Not worse at it than the government, but still."
Hosted on Twitch Channel Robbotron THE DARK ROOM is the world's only live-action videogame, pitting everyone in the chat, single players on voice call and invited special guests against an unforgiving dungeon master in an interactive attempt to escape a room full of hilarious death traps. Remember "Twitch plays Pokemon"? This time it plays a living man.
"The Dark Room started as a parody of 80s text adventures, but it morphed into something between stand-up, heavy metal and one of those sadistic Japanese gameshows". 
This year's show features ridiculous challenges and is broadcast live from gamer bar Rule Zero, Hackney. You can come play and donate in person!
"For every £1000 we raise, I'll dance around like an anime catboy, which I don't want to do. The Pope will host a rave. If we raise an absolute tonne, I'm going to fill a tub with Pepsi Max and do a show from that. We've got an amazing Dutch painter painting a big canvas of whatever donors request, and a company that's going to sell t-shirts with whatever ends up on there, and all funds from everything go to the charities. I intend to finish this broken and happy. The goal is to wear me out, because nothing is as exhausting as what we're raising money for."
There's also an army of special guest comics and streamers including Mark Watson, Minecraft streamer Button, Nanokim & Bouphe from The Yogscast, Knightenator, Stevie Martin, Kyle Hebert (SFV + DBZ), Lomadiah, RossBoomsocks, MaizyMarzipan Alice Fraser, TikTok star Natidreddd, Jordan Raskopolous, Rosco with more being added in the lead-up to the show. 
Prize sponsors include Razer, Insert Coin, Noblechairs and Overclockers.
THE DARK ROOM 50 HOUR CHARITY MARATHON 8pm BST MAY 28th – 10pm BST MAY 30th DONATE TO NHS, CENTREPOINT AND REFUGE