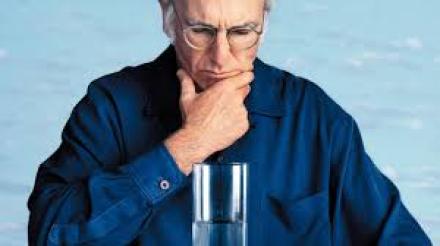 It has been confirmed that Larry David is to make his Broadway acting debut early next year. The Curb Your Enthusiasm star will appear in his own play, Fish in the Dark, which  will also star Rosie Perez, Jayne Houdyshell, Jake Cannavale, Jonny Orsini and Jerry Adler. It will be directed by Anna D Shapiro who also directed the award-winning August: Osage County.
David, who famously co-created the sitcom Seinfeld, has not gone into detail about his Broadway debut, except that it is "a comedy about a death in the family." A famous early episode of Curb also featured a death, when an obituary misprint placed by Larry said "Beloved c**t instead if "Beloved aunt". David has described his character as "somebody very similar to Larry David – it might even be Larry David with a different name."
The one-time stand-up comedian has acted in various other screen productions in recent years. He starred in the Woody Allen movie Whatever Works in 2009 and earlier this year appeared in the HBO film Clear History.
Fish in the Dark will start previewing at the Cort Theatre in New York on February 2 and will open on March 5.