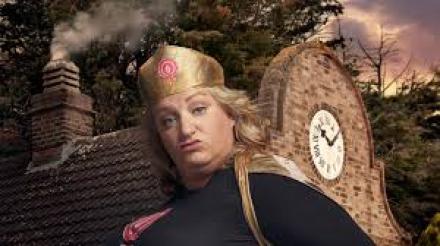 This Country star Daisy May Cooper is to star in a new BBC comedy drama.
Inspired by her book Skint Estate, Cash Carraway (working title) is a wild and punky tale of being trapped below the poverty line and doing everything it takes to escape.
Daisy May Cooper (This Country) stars as a young working class single mum living with her ten year old daughter in the brutal lonely landscape of austerity Britain. Told with a dark lick of humour and an anarchic attitude, Cash Carraway skewers stereotypes of what it means to be working class and underlines the importance of love, dreams and friendships.
Cash Carraway says: "The show is a about a brash yet intelligent working-class single mum who not only lives in extreme inner-city poverty but a state of ridicule and humiliation as she attempts to improve her life.
"She's immoral and shocking and purposefully vile, and swaggerous and quite amazing really - but obviously I would say that as it's inspired by my life!
"Luckily the role will be played by the brilliant Daisy May Cooper who I know will give her warmth and humour and a performance that says 'f-you' to the expectations of how women perceived to be at the bottom of society are expected to behave.
"It isn't a woeful tale of poverty porn, it's a love story in the detritus between a mother and her daughter. A woman who refuses to hand over her spirit regardless of how hard it's kicked in, and it's an absolute dream to write this drama for the BBC and Sid Gentle Films."
Cash Carraway is executive produced by Jo McClellan for the BBC and Sally Woodward Gentle and Lee Morris for Sid Gentle Films and Cash Carraway. Sid Gentle's Head of Development, Henrietta Colvin, will serve as Associate Producer. BBC Studios will distribute the series internationally.
It has also been announced today that Dolly Alderton is adapting her memoir Everything I Know About Love, for TV.
Maggie and Birdy, besties since school, finally land in London to live it large, when the unexpected happens - dependable Birdy gets a steady boyfriend. A generous, funny, warm-hearted and uplifting Sex & The City for Millennials which covers bad dates and squalid flat-shares, heartaches and humiliations, and, most importantly, unbreakable female friendships.
Dolly Alderton says: "Everything I Know About Love is a semi-fictionalised adaptation of my memoir of the same name. It's a messy, boisterous, joyful, romantic comedy about two best female friends from childhood and what happens when they move in to their first London house share and the first phase of adulthood. I cannot stress enough how thrilled I am that it is being made by Working Title and the BBC."
Everything I Know About Love is executive produced by Jo McClellan for the BBC, Dolly Alderton, and Surian Fletcher-Jones, Tim Bevan and Eric Fellner for Working Title Television, which is part of NBCUniversal International Studios, a division of Universal Studio Group.
And writer of Mum, Stefan Golaszewski, is writing Marriage, a four part drama about a couple who need each other.
The show examines in intimate detail the fears, frustrations and salvation of marriage and the comfort that can only be found in togetherness.
Stefan Golaszewski says: "Marriage is a show about a couple but there's more to it than that obviously! It's great to be working with the BBC again. They've been amazing during the development of the idea and encouraged me to write what I want to write. It feels like a real privilege."
The productions are part of a new batch of drama being made by the BBC. It has also been revealed that Michaela Coel is working on a nnew project but no more details have been relesed.
Pictured: Daisy May Cooper in Taskmaster/Avalon/C4