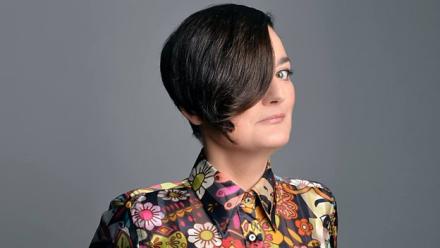 For those wondering why Zoe Lyons is wearing a beanie hat on Have I Got News For You on Friday night it is because she has alopecia.
Brighton-based comedian Lyons has posted pictures of her hair loss but decided to wear a hat on the satirical show.
Last summer she wrote about it on instagram: "My hair falls out in patches when I get stressed. I've had alopecia off and on since I was 11. I am lucky in that it has always grown back. This particular little frier tuck crop circle started to appear at the beginning of lockdown. Its such a strange one alopecia because of course it is not harmful to the body other than the baldness but it can be stressful non the less seeing clumps of your barnet in the shower every time you wash your hair and trying not to worry about something that is itself triggered by worry is a bit of a mind bend.
Not having a hair cut for three months has its advantages in that my hair is long enough to cover the three baldy bits I currently have. But today is good as I can feel very soft hairs growing back. I'm calling this the grassroots of recovery.
Stress affects us all differently but one thing is a constant. Talking about it helps."
In March this year she posted a picture and wrote: "It's just over a year since my hair started falling out. Most people aren't even aware I've got extensive alopecia at the moment because I can still hide it so well. Its still falling out but on a massively positive note its also growing back in slowly in places. This particular little patch of regrowth I am calling Tufty. Tufty is my mini comb over. I have big plans for Tufty in the future. Starting a new treatment next week in the hope of encouraging the rest of my patches to take a leaf out of Tufty's book and spring forth with confidence. I'm off to buy Tufty a bow."
Viewers unaware of her hair loss complained about her appearance until they were told the reason for it.
Lyons has said that she was waiting for a wig for TV but it has not arrived yet.
Pictured: Lyons with her natural hair