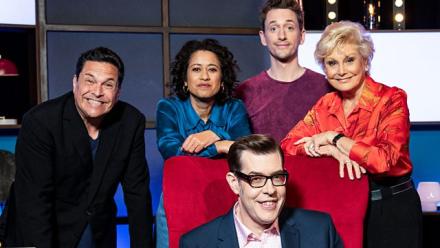 The guests on this week's Richard Osman's House of Games are John Robins, Samira Ahmed, Dom Joly and Angela Rippon.
Except they were actually the guests on Richard Osman's House of Games last February and this is another repeat, plugging the gap until an all-new series starts.
We aren't going to say who the winner is – if you want to find out you can do the hard graft yourself and go on the House of Games Wikipedia page.
It's a good line-up though. And, as I write, on the day of the second episode, Queen fan, fanatical golfer and Alan Partridge soundalike John Robins is celebrating his 39th birthday. It's not his only celebration lately. His partner is Coco Fennell, whose sister Emerald Fennell just won the Oscar for Best Original Screenplay for Promising Youg Woman.
Also taking part in Richard Osman's fiendish brainsteasers are prankster Dom Joly and Samira Ahmed. Ahmed recently turned up in Stewart Lee's documentary about Midland punk legends The Nightingales. Ahmed turned out to be a big Nightingales fan which was something of a surprise. Though it would have probably have been even more of a surprise if the fourth competitor tonight, Angela Rippon, had turned out to be a fan...
Richard Osman's House of Games, Monday - Friday, 6pm, BBC Two.
Picture of
 John Robins, Samira Ahmed, Dom Joly, Angela Rippon andRichard Osman

: BBC