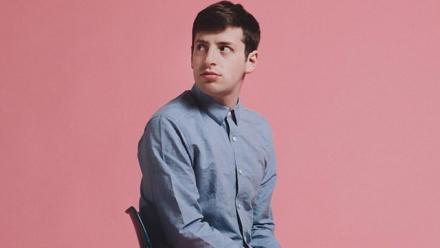 Award-winning comedian and writer Alex Edelman's fourth R4 series of 'Peer Group', a show about the millennial generation, starts from 11th May for four weekly episodes.   
The first episode - entitled "Dead Jews" - centers on anti-Semitism in the US and the UK, and the varying levels of concern people have for Jews, living and dead.  
The second, "America As It Is Now", focuses on the political and economic upheaval the United States has experienced over the last fourteen months. The Biden election, income inequality, and the George Floyd protests all feature prominently.  The third, "New Relationships to Old Things," examines our connections to the objects in our lives as we age, and was prompted by Edelman's parents selling his childhood home.  
The fourth and final episode "The Impossibility of Escape," revolves around the mire so many of us have felt living through the COVID-19 pandemic, and how we've dealt with it.   
Edelman's debut stand up show, MILLENNIAL – about very traumatic stock photos and young people – won the Edinburgh Comedy Award for Best Newcomer, the first show by an American to do so since 1997. The follow-up, EVERYTHING HANDED TO YOU – about identity and the availability of outlets in airports – was even more acclaimed: selling out its entire Edinburgh run and garnering the second best reviews of any comedy show at the Festival.   
His third, JUST FOR US – which centered on a meeting of neo-Nazis that Edelman attended in New York – cemented his reputation as a writer-performer of impressive ambition and technical skill. In its premiere run at the Melbourne International Comedy Festival, it was nominated for a Barry Award for Best Show. In Edinburgh, it earned a Herald Angel Award, a nomination for Best Show, and superlative praise that made it the best reviewed comedy show at the Festival in a decade.  Besides Edinburgh and Melbourne, JUST FOR US has had several extended runs in London's West End at the Soho Theatre, the prestigious comedy haunt where many of Edelman's solo efforts have premiered. The show has also been presented at Just For Laughs in Montreal, at the Bell House for New York Comedy Festival, Off-Broadway at the Lucille Lortel Theater, and on a three-month, COVID-truncated UK tour.   
His stand up album UNTIL NOW - released in July 2020 - was warmly received by critics and audiences alike, and was named one of the year's best by NPR's Bullseye. He's recently completed a writing stint on the Jenji Kohan-produced TEENAGE BOUNTY HUNTERS for Netflix. Prior to that, he served as a staff writer on THE GREAT INDOORS for CBS.  Besides his narrative work, Edelman has written for countless awards shows, including the BRITs and the BAFTAs.