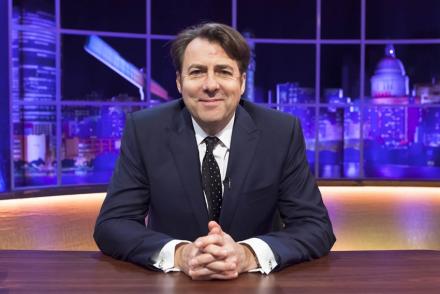 I wrote a think-piece recently about how Jonathan Ross has been so good for supporting stand-up comedy on his TV shows. Not only did he front a stand-up comedy series during the bleak days of the first lockdown, but he has consistently given breaks to up and coming comics such as Desiree Burch on his mainstream Saturday night chat show.
Only last week he returned to our screens and gave plenty of airtime to London-based Irish star Joanne McNally. So it's a bit of a surprise that this week's line up does not seem to include anyone whose profession is making people laugh. It's not as if Ross doesn't have connections – he's managed by the same company that manages the likes of Romesh Ranganathan and Josh Widdicombe. Couldn't one of them have popped by to add some giggles to the mix? Actually on second thoughts they are both pretty busy, but I'm sure some other acts would be grateful for a spot on the show.
On the other hand, however, Ross does have a pretty appealing line-up tonight. Or maybe I should say an arresting line-up as he has not one but two stars of Line of Duty chatting in the studio – Martin Compston and Vicky McClure.Though of course it remains to be seen what they will be talking about because they certainly won't be giving anything away about the final episode in the series which goes out on Sunday night. 
By the way, my money is on H turning out to be one of the stars of an early Jed Mercurio series The Grimleys – Noddy Holder. You heard it here first.
The other guests on this week's show are medal-winning swimmer Ellie Simmonds and founder member of dance groupe Diversity, Ashley Banjo, who may be talking about their famous Black Lives Matter routine as well as being a judge on Britain's Got Talent. 
Music comes from that old punk rock warhorse and haircut trendsetter Paul Weller who seems to slip in and out of fashion a few times each decade. Let's hope he is back on top form with his latest album and has put a comb through those silvery locks.
The Jonathan Ross Show, Saturday, May 1, 9.35pm, ITV1
Picture: ITV1