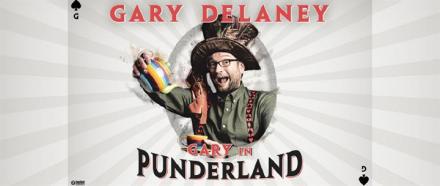 After performing no fewer than 160 shows on his last circuit of the country, Gary Delaney might be expected to take a bit of a breather now. But he has spent the lockdown period burrowing through the looking-glass and emerging with his laatest show. Welcome to 'Gary In Punderland'.  
One of the most sought-after, prolific and successful gagsmiths in the country, Live At The Apollo star and longstanding Mock the Week special guest, Gary unleashes a brand new show with hit after hit of the kind of one-liners only a master could craft. If you're hunting for snark, Gary's got it covered. (NOTE: people not actively hunting for snark will also be entertained.) You can expect, as ever, a killer-gag-rate rivalled by nobody out there, and a merciless evening of wall-to-wall, no-filler joke artistry.  
Gary Delaney's credentials as a uniquely gifted one-liner craftsman were even further underlined this year, when he published his first book – 'Pundamentalist'. (To be more specific about it, Headline published it for him; Gary didn't have to print out all the copies and staple them together himself.) More than two hundred five-star reviews on Amazon confirm what the UK's comedy fans already know: the man is a joke phenomenon. Don't miss this chance to see him do what he does best, with a massive new arsenal of material. You are cordially invited to Punderland.
(NOTE: 'Punderland' is not a real place; it is a play on the popular children's classic 'Alice In Wonderland'. The shows will take place in various stipulated locations around the United Kingdom, details of which can be found online. Refunds will not be offered to people who attempt to attend the show in an alternative universe.)