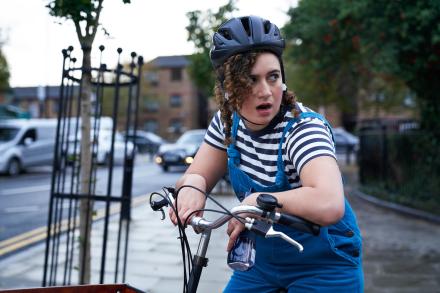 One of the first times I saw Rose Matafeo was in 2017 when she did an Edinburgh show entitled Sassy Best Friend, about the movie cliche of the romantic female lead usually having a wisecracking sidekick. Matafeo self-deprecatingly saw herself in this role but now graduates from sidekick to top of the bill in this excellent new TV romcom - all six episodes are now available in a boxed set. Why not watch them back-to-back and pretend it's a movie?
The New Zealand-born comedian plays Jessie, a tough but slightly scatty, quick-talking very late twenties woman living in East London who ends up in bed with a charming stranger on New Year's Eve. It's only in the morning when she has sobered up that she realises that Tom (Nikesh Patel) is actually a film star. But is their relationship going to blossom when a) they come from different worlds b) there are further complications...
Reviewers elsewhere have already compared this to a gender-reversal Notting Hill and it is easy to see the similarities. But what makes this stand out is the chemistry between the leads.You can sense a real romantic frisson when they are onscreen together. Add to this Matafeo's full-blooded, fully-rounded, totally committed performance and you have a real winner. She's daft but also smart. And she does one of the best bits of extremely drunk acting I've ever seen, when she is in a men's toilet just before her meet-cute.
It's a lovely, fast-paced comedy to watch and while there are some obvious ways it might pan out –  it may or may not work out those ways, I haven't binged yet – Matafeo, who co-wrote it with Alice Snedden, is surely never going to opt for an obvious narrative on the way there. As you can tell from the references to films as diverse as Rush Hour 2 and Son of Saul she clearly knows her movies.
Comedy fans will also enjoy Emma Sidi (Matafeo's real-life flatmate) as Jessie's slightly sassy best friend and Al Roberts (Sidi's real-life partner, keep up) from Stath Lets Flats. Minnie Driver is also one of the stars that pops up later in the series.
There was one thing I didn't get though and maybe someone else out there can help me. When Jessie first hooked up with Tom why didn't she recognise him? He must be pretty famous as the paparazzi is camped outside his fashionable flat. And she is not just a film fan, she works in a Hackney cinema so surely his face must have rung a bell when she first met him. Then again, I suppose she was extremely drunk...
The whole series of Starstruck is available on iPlayer here.
Picture: BBC/Avalon UK/Mark Johnson
PS. Not to be confused with upcoming ITV show with Olly Murs, Adam Lambert, Sheridan Smith and Jason Manford also called Starstruck.