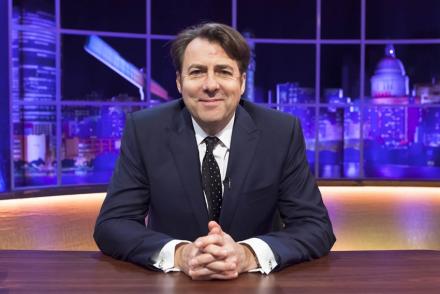 Jonathan is joined by music and fashion icon Boy George, Great British Bake Off supremo Prue Leith, rapper turned chef Big Zuu, rising star of comedy Joanne McNally, and the multi platinum-selling London Grammar, who will be performing in the studio.
This is a pretty rapid rise for Irish comic Joanne McNally, who appeared on Comedy Central's online Fringe line-up and on the BBC's Festival of Funny stand up show during the pandemic. After guesting on Jonathan Ross' Comedy Club last year she now graduates to the main show. 
Described as 'hilarious and brutal' by critic Lyn Gardner, McNally's last pre-pandemic live show, Prosecco Express, was about being stuck while the world around her was getting married, having children and streaming off to buy slow-cooker crock pots and buggies.
Due to being in her thirties, Joanne talked about spending  her weekends celebrating other people's milestones at their garden parties, drinking prosecco out of jam jars. She is full of questions, her main one being: if she doesn't have a child, who will be obligated to watch her die so she doesn't have to do it alone?
She's a people's person, but just not sure she's a 'raising people's persons person'. And what if she doesn't marry anyone? Is she prepared to face her biggest fear of having to accept her mother's offer of being buried with her and her father? And once her mother reads this, will she retract the offer? Joanne is particularly good at tackling the trials and tribulations of modern life
Described by the Sunday Times as a 'truly gifted stand-up', Joanne took Ireland's comedy scene by storm with sell-out tours, hilarious chat show appearances, newspaper articles, and a hit documentary entitled Baby Hater.
Her first one-woman stand-up show Bite Me was about eating disorders and was nominated for awards including Best Performer, Best Production and a First Fortnight award at the Dublin Fringe in 2016. 
​
The Jonathan Ross Show, Saturday, April 24, 9.35pm, ITV1. 
Picture: ITV