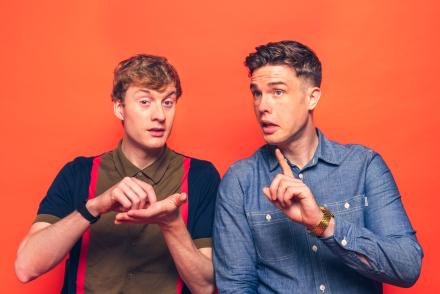 Off Menu with Ed Gamble and James Acaster – the award-winning podcast that invites a special guest into the 'dream restaurant' to order their favourite meal – is celebrating reaching its one hundredth episode with a very special edition featuring Gamble and Acaster themselves as the guests.
In the milestone episode, Gamble and Acaster, for the first time, reveal their own dream menus to very special guest host/genie – and former Off Menu guest –  Claudia Winkleman. The one hundredth episode arrives as Off Menu hits  50 million downloads.
Since launching in December 2018,  Off Menu has regularly topped the podcast charts, was twice voted Best Comedy Podcast at the Pod Bible Awards and been nominated for three British Podcast Awards. Previous guests include  Louis Theroux,  Teri Hatcher,  Armando Iannucci,  Victoria Coren Mitchell,  Kumail Nanjiani,  Daisy May Cooper,  Domhnall Gleeson and  Rose McGowan alongside British comedy favourites like  Greg Davies,  Romesh Ranganathan,  Sue Perkins,  Jo Brand and  Katherine Ryan.
Ed Gamble said: "We're absolutely gobsmacked that we've made it to 100 episodes. James thought we were only doing ten and I assumed he would drop out after seven. It is testament to our brilliant guests and the hard work of the Great Benito that we have got here. Here's to another 100, hopefully with a few more chances to kick people out of the dream restaurant this time. Mainly, though, I am over the moon that we could make it this far without anyone questioning why the genie grants more than three wishes per person."
James Acaster said: "I would like to congratulate Ed and Benito on their podcast and I hope they will have me on as a guest one day."
Off Menu with Ed Gamble and James Acaster is produced by  Plosive – the team behind podcasts including  Nobody Panic,  Cuddle Club with Lou Sanders,  Harry Hill's Noise,  Might Delete Later,  Microscope and British Podcast Awards Gold Award winner  The Rob Auton Daily Podcast.
Off Menu with Ed Gamble and James Acaster is available now on
Apple Podcasts:  https://apple.co/3efD5wJ
Acast:  https://play.acast.com/s/offmenu
Spotify: https://sptfy.com/offmenu