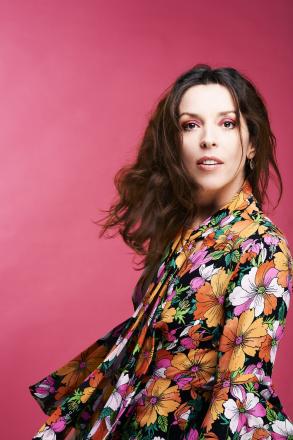 Who Am I? will be Bridget's 13th show.  Previous shows include A Bic For Her – which won the Foster's Award for Best Show at the 2013 Edinburgh Festival, a South Bank Sky Arts Award, and became the best-selling show at the Soho Theatre ever. Her Brexit-themed show, Because You Demanded It, was named as The Guardian's No 1 Comedy of the Year in 2016 and won the Chortle Award for Best Show (her second Best Show Chortle Award).  Other nominations and awards include a British Comedy Award for Best Female Comic, a Rose D'Or, a Sony, BBC Audio Drama Award, and five Chortle Awards.
In 2016, Bridget recorded her debut stand-up special – Stand Up For Her(Live from Hoxton Hall) – released direct to Netflix in 2017, making her the first British female stand-up on the streaming service. In 2019 she became the 14th curator of Radio 4's The Museum of Curiosity, and headlined the Leeds and Reading festivals.
Her BBC Radio 4 series Bridget Christie Minds the Gapwon Best Radio Series at the 2014 Chortle Awards, Best Radio Comedy at the 2014 Rose D'Or awards, and another Chortle Award – for best radio programme – in 2015. Her third series, Utopia, was a finalist in the Radio Drama Awards 2018, with Radio Times calling it "the funniest show on the radio in years". Her current BBC Radio 4 series Mortal, an absurd and intimate lockdown audio diary recorded by Bridget at home and in the park, has also been well received:  ("Distinctive… substantial… thoughtful… funny" **** Steve Bennett, Chortle).
You can hear the show here: www.bbc.co.uk/sounds/play/m000v2sx
Her book, A Book for Her, received universal critical acclaim and was nominated for a Chortle Award.  
TV-wise, Bridget has starred in a number of shows, including QI, Ghosts, Cardinal Burns, Harry Hill's Alien Fun Capsule, Anna and Katy, Have I Got News for You, Room 101 and Kevin Eldon's show It's Kevin.  
Click here for Bridget Christie tour dates