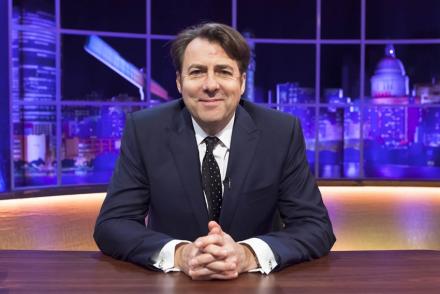 Talk show veteran Jonathan Ross returns to ITV1 tonight at the slightly earlier time of 9.35pm and a mix of guests from the worlds of comedy, sport and cinema.
Comedian Alan Carr, no slouch when it comes to hosting chat shows himself, will be bringing the funny. He can also be seen earlier in the evening hosting the nostalgiafest that is Alan Carr's Epic Game show on ITV1 immediately before Ross at 8.30pm.
A sitcom is to be made based on Alan Carr's life. 
The casting company looking for someone to play the young Alan has posted requirements and the following monologue, which gives a flavour of the subject matter of the comedy. Carr grew up in Northampton where his father, Graham Carr, played for and later managed Northampton Town FC.
"I swear there was a mix up at the hospital. I do! Somewhere in Northampton, there's a hairdresser looking out his patio windows wondering why his son is more interested in playing keep it uppy, than learning how to give a cut and colour. It's what you could call a genetic own goal, no pun intended, my Dad's the local football manager you see. I mean I'm hardly footballer material, have you seen me? Classic pear with a sweet tooth, most boys go up a collar size over the summer holidays but I go up a cup size an all.
​What can I say? I'm a sucker for a flump, it's one of the few pleasures in my life. Well, that and bobbing down WH Smith to get my hands on a brand new Agatha Christie. Betty in Smiths says ' you like a mystery don't you?' I thought 'How you've maintained this job with such bad body odour is the biggest mystery but I bit my tongue and just said  "Give me a quarter of cola cubes my love, and then I'll get out of your hair'."
Jonathan's other guests are World Heavyweight Boxing champion Anthony Joshua, Mary Poppins Returns star Emily Blunt (I liked her in A Quiet Place and apparently there is a sequel in the pipeline also featuring Cillian Murphy – John Krasinski from The American Office will once again direct, but not appear as his character was killed off in the first film). Plus rapper AJ Tracey who will chat and perform in the studio.
The Jonathan Ross Show, 9.35pm, ITV1, Saturday, April 17.
Picture: ITV