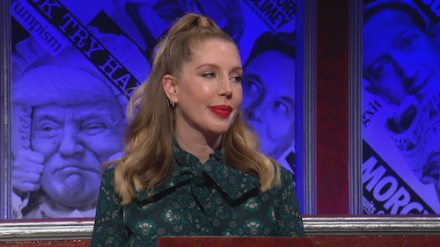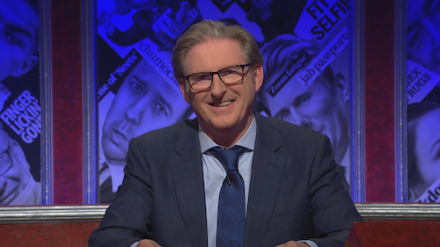 Have I Got News For You'continues on BBC One tonight at the usual time of 9pm, with Line of Duty's D.I. Hastings himself, actor Adrian Dunbar, guest hosting the programme for the first time. 
Joining Dunbar as panellists for the second episode of the show's 61st series are comedian Katherine Ryan and The Sunday Times' Political Editor Tim Shipman. 
Alongside regular team captains Ian Hislop and Paul Merton, the new series continues to record in studio with a virtual audience, in the week that saw the country mourn the loss of the Duke of Edinburgh, lockdown restrictions being eased and questions being raised over David Cameron's role with finance firm Greensill Capital after his tenure as Prime Minister.  
With Dunbar in the host's chair for the first time, both he and the panel provided plenty of enjoyable references for fans of the BBC One smash-hit Line of Duty to enjoy when discussing the week's news.  
Attention turned to the easing of lockdown restrictions across the country. Adrian Dunbar: "This is the joyous lifting of lockdown, or if you're watching the repeat, the reckless harbinger of the third wave." 
"One vaccine development this week is that AZ has been backed by the MHRA, an EMA using data from the ONS and the PHE to support the JCV… I mean… hang on… I only said yes to this show to get away from bloody acronyms!"  
"According to the Daily Mirror on Monday, 4 million pints of beer were sold in the UK, the equivalent of 92 pints per second. Which proves, if there's one thing we can roll out faster than the vaccine… it's the barrel!" 
"How I've missed those spur of the moment, impromptu quick drinks with mates, where you just go online to the local pub's website, access the booking form, find an hour and a half window on the 23rd April between 5:45 - 7:15pm in the garden, use a credit card to pay a deposit to secure the booking, and enter the names, emails and mobile phone numbers of each of the people who will be attending… and chill…"  
Later in the programme, the panel discussed David Cameron, who will face an investigation over his role with finance firm Greensill Capital. Katherine Ryan: "It's very urgent, it only took 11 years to be investigated…" 
Katherine Ryan also pops up in a repeat of 8 Out Of 10 Cats Does Countdown later at 10pm on C4 alongside Joe Lycett. They take on the opposing team of Johnny Vegas and Sean Lock. Hapless novelist Christopher Bliss is in Dictionary Corner with Susie Dent.
Have I Got News For You, BBC One, 9pm, Friday, April 16.
Katherine Ryan/Adrian Dunbar pictures: Hat Trick Productions