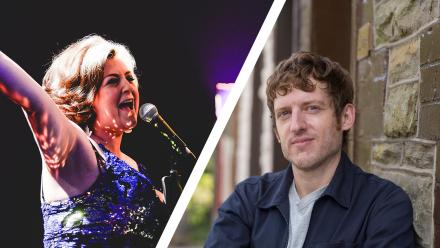 BBC Cymru Wales has announced a series of online sessions as part of the BBC Sesh Presents: Breakthrough Festival. The two day festival, designed for individuals wanting to learn more about making documentaries, comedy and podcasts is taking place online on 21 and 22 April.
Headlining the festival will be two of Wales' best-known comedy artists - stand-up comedian and actor Elis James will take part in an online session giving an insight into his career so far on 21 April while comedian, writer and radio show host, Kiri Pritchard-McLean will be live on 22 April sharing how she got her first breaks in the industry.  
Created for young people looking to work in the broadcast and media industry, other sessions hosted by established producers and directors include a guide to pitching new programme ideas as well as tips and advice on the commissioning process.
Taking place in webinar format attendees are asked to register in advance with more details available by visiting bbc.co.uk/sesh
Kiri Pritchard- McLean says: "The Welsh comedy scene is in rude health, it's absolutely brimming with talent. I'm excited that there's now a team in place that can support burgeoning comedians in Wales if only so that moving away is a choice not an inevitability. I'm honoured BBC Sesh have asked me to contribute in some way and even more thrilled I get to talk about myself for a bit. 
Nick Andrews, Head of Commissioning at BBC Wales says – "It's so important for BBC Wales to be at the forefront of developing the next generation of talent. This Festival is packed with information that could define career choices and discover amazing storytellers. Kiri and Elis are at the top of their game and will no doubt inspire everyone one who attends. This is exactly what we need to be doing. It will be a superb event - and only a click away. No excuses, please get stuck in."
Festival Schedule details available on the BBC Sesh website  - bbc.co.uk/sesh
WEDNESDAY 21 APRIL 
6.30-7pm
HOW TO GET YOUR FIRST BREAK AS A NEW DIRECTOR
Find out more about the BBC New Directors scheme from BBC Wales Commissioning Exec Sian Harris and Director/Producer Toby Cameron (Hell on Wheels). Get advice on pitching ideas and how to get yourself noticed.
https://bbc.zoom.us/webinar/register/WN_JSYDvasYSxmdAAr5k56mIQ
7.15-7.45pm
GETTING YOUR FIRST COMEDY COMMISSION
Tips and advice on winning your first commission with BBC Wales Comedy Commissioner Paul Forde, BBC Scotland Comedy Commissioner Gavin Smith and Scripted Comedy Producer Gina Lyons (In My Skin, Dreaming Whilst Black).
https://bbc.zoom.us/webinar/register/WN_ZUackdA-TzavXBCQd0ivLw
8-9pm
ELIS JAMES Q&A
Elis James is a successful stand-up, actor (Josh, Tourist Trap) and presents a weekly radio show with John Robins for BBC Radio 5 Live. Find out more about his career so far and how he got his first breaks into the industry. 
https://bbc.zoom.us/webinar/register/WN_us8m28GTQxq290yCLH7-Vw 
THURSDAY 22 APRIL 
6.30-7
COMISSIONING FOR WELSH LANGUAGE RADIO AND PODCASTS*
A chance to hear from Siân Eleri  about her experiences presenting for BBC Radio Cymru and BBC Radio Wales, from Content Editor, Gruffudd Pritchard about opportunities in commissioning, and from Jalisa Andrews about her experiences creating Welsh language podcasts (Fy Nhro Cyntaf, Mel, Mal, Jal)
*This is a Welsh language session.
https://bbc.zoom.us/webinar/register/WN_cPqURIHOQbmooS6Kapklow
7.15-7.45pm
HOW TO GET A PODCAST COMMISSION ON BBC SOUNDS
Find out more about pitching your podcast idea and how to win your first commission with BBC Radio Wales Editor Colin Paterson, BBC Sounds Assistant Commissioner Emmanuella Kwenortey and podcast presenter Danielle Fahiya (I Was 30, I'm Now 15).
https://bbc.zoom.us/webinar/register/WN_B2upFU4KRtaQtdWKVEQIYQ
8-9pm
KIRI PRITCHARD-MCLEAN Q&A
Comedian and writer Kiri Pritchard-McLean is a successful stand-up comedian, writer and co-hosts the podcast All Killa No Filla. Find out more about her career so far and how she got her first breaks into the industry.  
https://bbc.zoom.us/webinar/register/WN_5Q3EfGySTFmcOQvN4p0Zog