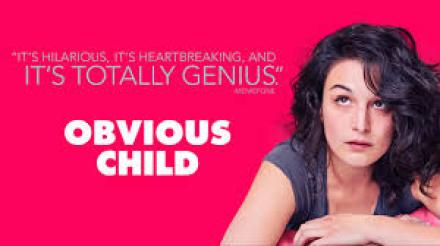 Obvious Child pretty much has hip US indie hit running through it like the word Blackpool running through a stick of sugary seaside rock. Real-life comedian Jenny Slate plays Donna Stern, a struggling comedian who seems to spend most of her stage time in too-cool-for-school Williamsburg clubs talking a little too honestly about her dirty knickers and her personal problems. Perhaps it is no surprise that her boyfriend ditches her in the first reel.
But then the stand-up has a one-night stand and finds that she is pregnant. The film follows Stern as she chooses to have an abortion. Naturally she talks about her decision onstage. She has no difficulty going into intimate detail about her private life in front of an – admittedly small – audience, but has difficulty discussing it with the father of her child. 
If you like your feminist humour broad, brash and ballsy like Bridesmaids or Knocked Up, director Gillian Robespierre's film may not be for you. This is a subtle comedy of manners with added kookiness. Donna has a fondness for wacky dancing and in one scene delivers her lines while seated inside a giant cardboard box. The title refers to both Donna's pregnancy and the fact that she is still something of a child herself.
The serious theme of abortion is handled with a mix of brutal frankness and delicacy. Donna's biggest dilemma is not about whether to go through with it, but how to raise the $500 to pay for it without medical insurance. Not surprisingly this film has been a big hit among the pro-choice brigade. Donna doesn't feel ready to become a mother so she decides not to become a mother. Pretty much end of debate, apart from a few quiet, thoughtful looks. 
Inevitably Lena Dunham's New York-set Girls casts a significant shadow over Obvious Child, Not just because of the middle class hipster milieu, but because one of Donna's best friends is played by Gaby Hoffman, who made a huge impact with a small part in Girls as Adam's unstable sister Caroline – you can't miss her whenever she's onscreen, she's the woman with the massive eyebrows who looks like she is biding her time waiting to be cast in the lead role in a Frida Kahlo biopic. Comedy geeks will also enjoy an awkward cameo from David Cross in a particularly naff vest.
Obvious Child is in cinemas from Friday, August 29.