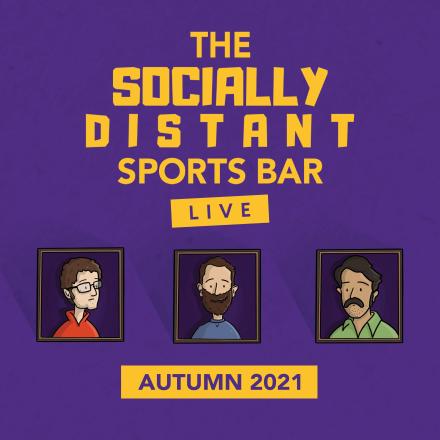 Stars of the hit podcast 'The Socially Distant Sports Bar' will be taking their show on the road for the very first time this autumn, as they embark on a seven date UK tour, kicking off at London's Hackney Empire on 18 September 2021. Tickets are on sale at 10am on Friday 16 April. 
Be in the away end/audience as Elis James, Mike Bubbins and Steff Garrero discuss big sporting stories such as wooing an optician with a camping stove in Bath; having lunch with Joe Frazier and Nigel Havers in a hotel near Maesteg; the social history of Carmarthernshire 1895-1915; and X-Rated trips to Wimbledon in the 1980s (to not watch the tennis). They may even get around to talking about some actual sport.
The tour will also visit Salford, Cardiff, Newcastle, Edinburgh and Birmingham, before culminating in Belfast on 13 November.  
On the announcement, Steff Garrero said: "We can't wait to get out there and do these live shows, the listeners have been asking for us to take it on the road for a long time and now we finally get to meet them in real life. Going to Wales, England, Northern Ireland and Scotland to do a different show every night is really exciting - all of the shows are going to be one off, unique moments and that's pretty special." 
Buy tickets here from April 16. (There also seems to be a pre-sale right now if you have a code...)
2021 Tour Dates
18 September London: Hackney Empire7.30pm
02 October Salford: The Lowry7.30pm
09 October Cardiff: New Theatre7.30pm
16 October Newcastle: Tyne Theatre7.30pm
23 October Edinburgh: EICC7.30pm
25 October Birmingham: Alexandra Theatre7.30pm
13 November Belfast: Ulster Hall2.00pm