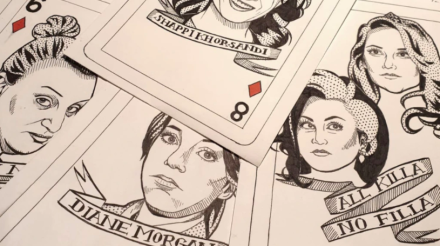 Edinburgh artist Aislinn Prior has set up a Kickstarter page to raise funds to put together a unique pack of cards featuring famous comedy faces including Bob Mortimer and This Country's Daisy May Cooper.
Aislinn says: "This all started with an idle thought that comedians have contributed so much to the sanity of fans and viewers during lockdown that there ought to be a way to show my appreciation for that. I posted a Suzi Ruffell King of Diamonds online - and before you know it, I've made a list of 54 comedians and the whole thing has gotten wildly out of control.
If I reach my target on Kickstarter (big if), it'll enable me to actually have physical decks of cards printed, which I would find INCREDIBLY cool, and then everyone who has asked me about owning a deck could, indeed, own a deck.
You can find the full series of drawings over on my twitter, aislinndraws. Ones with an asterisk after their name have been bought or reserved - I'll update this as often as I can. Please know that by supporting this you are making me incredibly happy. I'm very grateful for anyone who's signed up to the mailing list, checked this page out or taken the time to send me a lovely message! Thank you!
Aislinn was hoping to raise £2000 by May 4 and the good news is that over £9000 has already been raised. But contributions are still welcome here. Anyone who donates £20 will get a pack of cards featuring the comedian of their choice (if they aren't already taken).
PLAYING CARD LIST
Spades
K - Robin Ince*
Q - Josie Long
J - Bilal Zafar
10 - Mawaan Rizwan
9 - Alistair Green*
8 - Rose Matafeo
7 - Andy Zaltzman
6 - Laura Lexx*
5 - Greg Jenner/You're Dead To Me
4 - Stuart Laws
3 - Jessica Fostekew
2 - Off Menu*
A - Lou Sanders
Clubs
K - Marcus Brigstocke*
Q - Rachel Parris*
J - Michael Spicer
10 - John-Luke Roberts*
9 - Munya Chawawa
8 - Sara Pascoe
7 - Sophie Duker
6 - Diane Morgan
5 - Joz Norris
4 - John Robertson*
3 - Pappy's*
2 - All Killa No Filla
A - Sooz Kempner
Hearts
K - Rich Wilson
Q - Jayde Adams
J - Mark Watson*
10 - Tim Key*
9 - Alex Horne
8 - Toussaint Douglass
7 - Sindhu Vee
6 - Stuart Goldsmith*
5 - Stevie Martin
4 - Eleanor Morton
3 - The Last Leg
2 - The Isolation Tapes*
A - Anna Mann*
Diamonds
K - Suzi Ruffell
Q - Tom Allen*
J - Richard Herring*
10 - Dane Baptiste
9 - Rosie Holt
8 - Shappi Khorsandi
7 - Sofie Hagen
6 - Daisy May Cooper*
5 - Questing Time*
4 - Mike Wozniak*
3 - Matt Green
2 - Lockdown Parenting Pod
A - Athena Kugblenu
Jokers
Bob Mortimer
Nish Kumar*