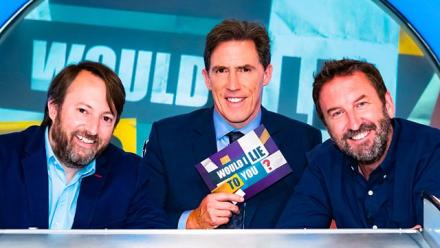 No sooner have we got used to Would I Lie To You in a Monday slot it returns to a Friday night with a Best Bits show.
Rob Brydon, Lee Mack and David Mitchell are joined by celebrity guests who reveal amazing stories about themselves. But is it true or is it false?
Among the guests featured in this compilation are are Jo Brand, Emma Bunton, Daisy May Cooper, Stacey Dooley, Dion Dublin, Rhod Gilbert, Alex Jones, Ronan Keating, Prue Leith, Debbie McGee, Scarlett Moffatt, Diane Morgan, Bob Mortimer, Big Narstie, Richard Osman, Rachel Parris, Jonnie Peacock, Lucy Porter, Rory Reid, Tomasz Schafernaker, Ellie Taylor, Georgia Toffolo, Henning Wehn and Shaun Williamson.
Yes, that's right there will be another chnace to see the brilliant Daisy May Cooper and, arguably, the even more brilliant Bob Mortimer. Hopefully talking about how he helped Damon Hill to win a Formula One race with the judicious production of a pre-Grand Prix Scotch Egg from his meat pocket. Or maybe discussing the egg-related bath tip he was given by Chris Rea.
But just in case they don't feature it at all or in full – and the list of guests above provided by the BBC does sound like a lot to cram into a single 30 minute show – you can always watch it below at a time of your own choosing. Though I would personally recommend that you watch the programme when it is broadcast too just to get the full WILTY experience. By the way, it's on at 11.20pm on BBC Scotland.
And while I've got your attention if you are a fan of Bob Mortimer telling stories his autobiography is out later this year: The synopsis says: "Mortimer was born in 1959, and trained as a solicitor before a chance encounter in a pub with a young comedian going by the name of Vic Reeves in the 1980s set his life on a different track. In his own inimitable voice, Mortimer shares his story with warmth, humour — and a few lies." More details here.
Would I Lie To You?, Friday, April 2, BBC One, 9.30pm.
Picture: BBC/Zeppotron