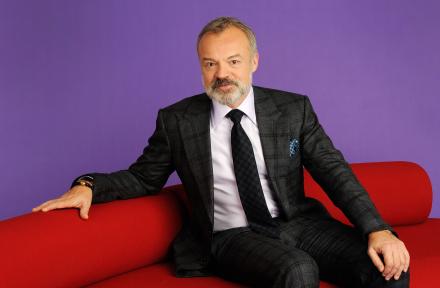 On tonight's show (2nd April) Graham is joined by Hollywood stars Octavia Spencer and Melissa McCarthy, American actor David Schwimmer, British actor Nick Mohammed, comic Frank Skinner, and singer and star of RuPaul's Drag Race Michelle Visage who performs with Steps.
Frank Skinner, talking about his record breaking Three Lions single with David Baddiel, says, "It's the 25th anniversary this summer so they are re-releasing for the European Championships.  To be honest we keep re-releasing it – we've milked it!"  Adding, "In the summer I received a package from the Guinness Book of Records with two framed certificates.  I took the first one out and it was for being number one four times and the next one was for the biggest drop in the same week – we dropped from number one 96 places  That was the Jiffy Bag of showbusiness – the highs and the lows!"
Asked about resuming his Showbiz stand-up tour, he says, "We'd done three months touring and a run in the West End when my agent suggested another 20 dates and then lockdown happened.  It will be 18 months since the last gig – it's the greatest interval of all time!"
Octavia and Melissa join Graham from LA and Australia respectively to chat about their new superhero comedy Thunder Force.
Asked about playing superheroes, Octavia says, "I loved the costumes, but I was terrified.  I was worried because I run very hot, like 150 degrees hot! So, the idea of being in a super suit had me thinking they would be really uncomfortable.  But I was amazed because the first time we were on set in ours we sort of naturally started talking with our hands on our hips in a superhero pose."    
Melissa interjects, "I was like oh my god we are real superheroes because we keep taking this stance.  It was amazing."
Talking about doing their own stunts, Octavia says, "Melissa does a lot.  She likes being in a harness and it's wonderful to watch her.  Me, not so much.  I love  my stunt woman!"  Melissa adds, "I want to be 20 feet up and spun around like a propeller while Octavia, who literally didn't have her toes off the ground, was screaming, 'Oh, oh, oh, not for me! Not for me!'"
David joins Graham from New York to chat about the second series of spy sitcom Intelligence, in which he co-stars with Nick Mohammed.
Asked about the real government agencies the series portrays and asked if they really were worried about what Nick and David were doing, David jokes, "I'm sure the NSA has probably been tracking me for years!"  Adding, "They didn't really reach out, I think it was the publicity person that wanted to check in.  It was GCHQ really that was more interested, but they were actually quite chuffed at how they come off."
Nick continues, "They did get in contact with us when they heard we were doing a show about GCHQ, but when they realised we wanted to know more about their canteen, choir and bake sales and that we were making a silly sitcom and not a whistleblowing drama, they relaxed a bit and were incredibly supportive." 
David, who has to leave the show promptly reveals, "I'm going to LA to shoot the Friends Reunion.  I will get to see everyone for the first time in years." 
Asked if he will be Ross or David in the reunion, he says, "I'll be David.  Nothing is scripted and we are not in character.  We are all ourselves, although there is one section of it that I don't want to give away, but we all read something."  Adding jokingly, "I should have genned up on old episodes, but I just haven't been able to bring myself to catch up on the 236 shows.  I guess I need to watch a lot over the next five days!" 
Michelle, talking about the global success of Drag Race, says, "I think people need to know that they matter and that they belong.  On the show everyone sees something they can relate to – and they see a place that is accepting, loving and forgiving.  Everyone is welcome."  
And on the differences between the US and the UK, she says, "It's important for the whole UK drag scene to be showcased for what it is, and it is not fair to compare.  The aesthetic is different.  There is a beauty and authenticity about drag in the UK with its rough edges. And that's what I love." 
Talking more about her love of the show, she says, "Every single time I sit in down at that desk I am filled with excitement, anticipation, joy and admiration for those queens."
Asked how she met Steps and how performing with them came about, she jokes, "We hang out in the retired pop group Facebook group!  Actually, Faye (Tozer) and I had the same dance partner – Giovanni – on Strictly so we became friends to moan together about our feet and everything else.  She asked if I'd like to do a song with them.  I said 'Sure' as you do, but it actually really happened!"
Revealing that as a struggling performer she worked in a strip club, she says, "I'd come out of a bad recording deal with zero dollars, so I went for an audition at strip club where girls were earning $3,000 a night.  I went during lunch and the crowd was a bit seedy and I just couldn't do it – I didn't have the body or the confidence.  But they were looking for a new host of the hot oil wrestling.  I got the gig, and it was the best experience of my life – it was like putting on a stand up show every night – it was amazing."
Michelle performs Heartbreak in This City with Steps live in the studio.
And finally, Graham pulls the lever on Frank, who volunteers to sit in the Big Red Chair on behalf of audience.
The Graham Norton Show, BBC One, Friday 2nd April 10.45pm. Also available on BBC iPlayer.
Next week (9th April) Graham's guests include Tom Cruise, Jennifer Connelly, Miles Teller, Felicity Jones, Wunmi Mosaku, John Bishop and Years & Years.
Graham Norton Image Credit: BBC/So Television/Christopher Baines