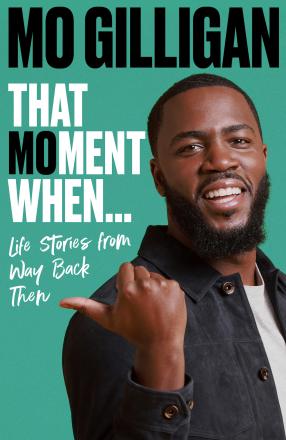 You might know Mo as the history making stand-up comedian, BAFTA-winning presenter of The Lateish Show, Masked Singer judge and social media mega star. Now, get to know Mo like never before in his highly coveted first book That Moment When, where he guides us through up the turning points, the good times, the challenges and the lessons learned in a collection of the moments from the decade-long grind that led to where he is today.
Journeying through childhood memories in South London, embarrassing teenage experiences, reminiscing about school days and old school raving, the behind the scenes of his first comedy gigs, the creation of the original Geezer and becoming a viral sensation, selling out national tours in minutes and becoming one of TV's most in-demand stars.  Mo will share the stories behind huge milestones in his life – the moment he decided he wanted to be a comedian, the moment he went viral, the moment he realised he was a little bit famous (and how he dealt with it), the moment his Netflix special dropped globally in 190 countries, smashing into the UK Top 5 and of course, the moment he won his BAFTA for Best Entertainment Performance.
In amongst the laugh-out-loud observations, raw life lessons and candid storytelling Mo will also explore his biggest influences and motivators – including the unsung heroes of the Black British comedy scene, the importance of reflecting his community and the power of spreading joy through laughter.
Mo says: "The last few years have been so incredible for me, but there was also a decade's worth of grind before I got any kind of break. In 'That Moment When' I get to share all those stories, all the highs and lows and moments that made me. I genuinely never imagined that I would ever get the opportunity to write my own book, so this is another amazing one to add and I'm so grateful to everyone who has helped make this happen."
Pre-order That Moment When By Mo Gilligan here.