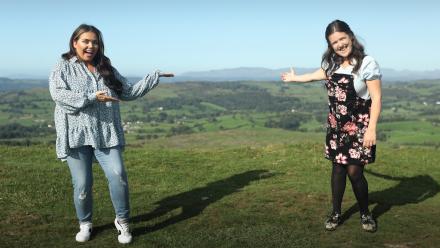 Comedian Rosie Jones fronts a new travel series on Channel 4, Trip Hazard: My Great British Adventure, in which she visits places around the UK that don;t break the bank.
During the series Jones will be joined by guests including Gogglebox star Scarlett Moffatt and comedians Jamali Maddix, Joe Wilkinson and Jenny Eclair.
Olivia Colman will narrate the series and the show also features comedian Rachel Stubbings who plays Jones' commissioning editor in comic scenes that go behind-the-scenes.
Trip Hazard: My Great British Adventure follows the success of her online series,  Mission: Accessible in which Jones, who has cerebral palsy, and fellow comedians helped to find an accessible staycation requested by a member of the public. The difference here is that Trip Hazard does not make an issue of her disability. "There's the odd comment," she told the Guardian, "but this is not 'a disabled person goes around the country'. That's just a given."
When the series was first announced the working title was A Great British, Female, Gay, Disabled, Covid Compliant Adventure.
Jones said "I spent lockdown back in Yorkshire with my parents, which was...tricky! But it did remind me how beautiful my hometown of Bridlington is, with its beautiful beaches, wildlife, and lovely locals. I want to explore more brilliant places like this. To be honest, I'm just over the moon to be leaving the house again!"
Exploits include going on a zip wire in Angelsey on the show with Jenny Eclair, sleeping near horses in the Lake District and fossil hunting with Joe Wilkinson. 
The series was filmed over two intensive weeks during lockdown which is why all the locations are in the UK. Jones said in the Guardian: "The idea was to visit places where the local people would go: 'Why have you come to Whitby for your holiday?!" Jones describes it as "going to shit places and making the most of it".
Trip Hazard: My Great British Adventure, Fridays from 9 April, C4, 8.30pm.
Picture – Rosie Jones and Scarlett Moffatt: C4