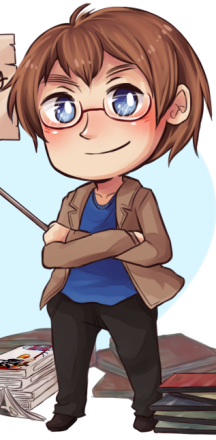 During the UK's multiple COVID-19 lockdowns, Ian Wolf (Anime UK News; Richard Osman's House of Games question writer as "Ian Dunn"; Comedy.co.uk) decided to keep himself occupied by writing a humorous book about his favourite comic book artists, the all-women Japanese manga group CLAMP, appropriately called CLAMPdown.
However, Wolf (pictured in Manga form) has struggled to find a publisher partly due to his Asperger's syndrome and the niche subject of his book. Thus, having written a comic book ("comic" as in "funny") about comic books ("comic" as in "graphic novel"), he has decided to go about it in a comic ("funny") way. Having set up the Twitter account @clampdownbook, Wolf wants to make the publishers come to him, by publishing free entire extracts of CLAMPdown for all to read. The preface and the introduction are available now.   
In honour of CLAMP Day (1st April), an unofficial day held to celebrate CLAMP, Wolf will publish the entire first chapter on 31st March 2021 at 16.00 Hrs UK time, which is 1st April 2021 at 00.00 Hrs Japanese time. Chapter 1 covers the origins of CLAMP and their first commercially published work RG Veda (released in English by Dark Horse), a series loosely based on the Vedic text the Rig Veda and focuses on Ashura, a genderless god of destruction.   
If Wolf finds no company willing to publish the book in a year, then he will publish Chapter 2 the same time next year, and if no publisher is still found he will publish a chapter every year until he does, or the entire book is available for free online. As it stands, this would end in 2038, but it could become longer if CLAMP create any new works during that time.   
Wolf says: "Of course I want a publisher to take an immediate interest in my work and offer me the chance to release CLAMPdown now for anyone to buy. However, if no publisher is currently interested, I'm happy to play the long game. Plus, I feel I can deal with rejection better if it is told to me gently over roughly two decades rather than straight away."   
CLAMP Day is held on 1st April for several reasons, including the fact that many of their characters have their birthdays on 1st April. The most famous of these is Sakura Kinomoto from CLAMP's most famous work, kids fantasy Cardcaptor Sakura (also known in the west as Cardcaptors). The first animated TV series (anime) of Cardcaptor Sakura is available to stream on All4. The original manga and its sequel, Cardcaptor Sakura: Clear Card, are currently released in English by Kodansha Comics, with the latest chapters being available to read online.  
As well as manga comics, CLAMP's work extends into anime TV series. The group have provided character designs for the forthcoming TV anime series Cardfight!! Vanguard overdress, which debuts on 3rd April. 
Ian Wolf (born Ian Dunn) works as an anime and manga critic for Anime UK News (animeuknews.net), and was the manga critic for all 71 issues of MyM magazine (2012-18). He is also the "data specialist" for British Comedy Guide (Comedy.co.uk) and is a judge for the increasingly prestigious Malcolm Hardee Awards given to alternative comedy acts at the Edinburgh Fringe – where every year Wolf collects reviews of every comedy act during the festival to give visitors the most detailed guide to what's going on. In early 2020, he became a question writer for several UK quiz shows under his real name (see preface), and has twice been a contestant on Mastermind. Wolf is from Stockton-on-Tees and has a mild form of Asperger's Syndrome, part of the autistic spectrum.  
CLAMP is a group of four women who have been creating manga since the 1980s. The group consists of writer Nanase Ohkawa, artists Mokona Apapa (aka Mokona) and Mick Nekoi (aka Tsubaki Nekoi), and designer and art assistant Satsuki Igarashi. The subjects of their works range from Hindu mythology (RG Veda), "magical girl" kids romance (Cardcaptor Sakura), the apocalypse (X), social commentary (Tokyo Babylon), fantasy worlds where everything is named after a car (Magic Knight Rayearth) and lesbian sex comedy (Miyuki-chan in Wonderland).   
https://clamp-net.com/ (Japanese only)