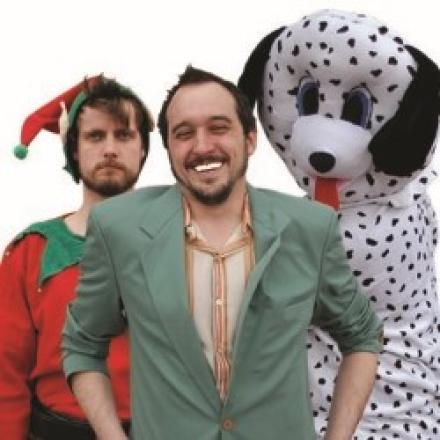 Just The Tonic at the Mash House
****
Beyond The Joke doesn't normally review children's shows, but then Funz and Gamez is no ordinary children's show. It works for children, but also for adult audiences. It is also a classic flukey Edinburgh Fringe success story. A few critics stumbled into it early on in its run, enjoyed it, and a word-of-mouth buzz made it one of the festival hits. On Saturday it won the Foster's Panel Prize. It is an indication of its success that despite being in the children's section of the Fringe brochure the full house for the show I saw included only around six children. 
What  Funz and Gamez does is not fantastically original but it is fantastically well done. Saturnine master of ceremonies Ellis hosts a show where the kids are entertained by sweeties and the parents are entertained by a dark, occasionally lewd sensibility. From opening silly singalong to closing, erm, silly singalong, it's an absolute hoot.
There are antecedents. Ellis' back story, for instance, with its running gag about his messy divorce – "I need the money, she took everything" – has echoes of early Pub Landlord. Mick Ferry's boozy Uncle Mick has shades of sozzled monster Jeremy Lion, while the whole variety show spoofery must have Vic & Bob kicking themselves that they never did a version of Big Night Out for primary schools.
But none of these similarities really matter. Funz and Gamez, also starring Bonzo the Dog on keyboards and Jim Elf on angry deadpan wisecracks, has a truly distinctive feel, as Ellis plays mean uncle, brutally arm-wrestling under-tens or cheating at blinking competitions. The children love it even though Ellis is ruthless in his determination to beat people a quarter of his size and an eighth of his age.
I do hope none of the children involved suffer any long-term damage. Hopefully the darker jokes – such as the clown who turns out to be something altogether more grown-up – will have gone right over their heads. They certainly seemed to adore it and judging from their smiles didn't seem to require any counselling. As I said, a kids' show that adults should love even more.