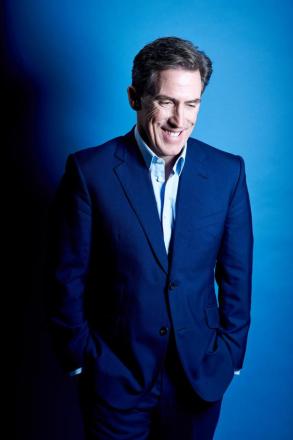 After a week off to make room for Comic Relief, The Graham Norton Show is back tonight with guests Liam Neeson, Micheàl Richardson, Tahar Rahim and Cush Jumbo, Dragons' Den Deborah Meaden, comedian and actor Rob Brydon (pictured), and singer-songwriter Laura Mvula.
Father and son Liam and Micheàl join Graham from New York to talk about their new comedy drama Made in Italy.
Asked about playing a father and son who have lost their wife and mother (in real life Neeson's wife Natasha Richardson died in 2009), Liam says, "We can very much relate to that.  When I read the script I thought, 'Oh my gosh, this is a bit near the knuckle,'  I felt a churning in the gut, but thought it would be great to do and to do it with my son." 
Micheál, asked if he and his father had discussed whether they would be comfortable playing out emotions in public, says, "We had a conversation about it beforehand.  I think dad was more worried about the publicity aspect of it and me getting questions about mum and other personal things, but I was pretty cool with that.  Other than that, it was so odd that it was 10 years after mum had passed and we were actually selling a family home that she grew up in, so it hit a little harder for us."  
Talking about saying things to each other in the movie that they might not have said in real life, Liam says, "It was cathartic in a way – the way in which art sometimes can be. There were some very delicate emotional scenes, and I could access the emotion without any problem, I didn't need days to build up to it and I thought Micheál would be the same.  We had such a delicate producer and such a supportive crew that we felt wonderfully comfortable."
Asked about working with his father, Micheál reveals, "I auditioned for the part for my own dignity.  I didn't just want to be handed the part because he's my dad."
Liam interjects, "You auditioned?  I didn't know that!"
Asked what it was like growing up with such famous parents, Micheál says, "I watched all their movies, but I was kind of traumatising at the age of five seeing my dad sliced in half by a lightsaber or blown up in an explosion, and also kissing somebody else – as a kid I thought it was CGI or some Hollywood effect!"
Cush Jumbo, talking about her new revenge thriller The Beast Must Die, says, "I got to do my own stunts.  I got to do a lot of things I always wanted to do – I became my own little James Bond.  I learnt to sail a 50 ft yacht, which was amazing but at one point it was so rough we were keeling right over, and I thought, 'This is where I die.'  There was supposed to be an 'out' word to use if I was really worried and I was screaming, 'stop! stop! stop!' and nobody came to stop it!  It was intense."
Talking about meeting one of her idols, she says, "I was doing a show on Broadway and afterwards Daniel Day Lewis came backstage and said the most wonderful things about me and the show and I was standing there panicking trying to think of things to say about his work and the only thing I could think to say was, 'I like your woolly jumper.'  He looked at me oddly, said 'thank you' and left!"  
Tahar Rahim joins Graham from Paris to chat about The Serpent and his upcoming new legal drama The Mauritanian.
Asked about filming The Serpent during lockdown, he says, "We ended up shooting in Tring! We were shooting Paris there and I was really concerned about it and told the producer we had to go to Paris, but when I saw Tring Paris I was blown away – they did a great job."
Talking about The Mauritanian and working with Jodie Foster, he says, "It was great and such an honour to work with her.  She is the coolest, the nicest, and what a great actress.  But of course, I was a bit intimidated by her.  I was too shy to tell her how much I love her films. I didn't want to bother her by telling her I am a fan."  
Asked about meeting Mohamedou Ould Slahi, who he plays in the film, he says, We had been talking for months but it was amazing to actually meet him – it was like meeting a good friend.  He is incredible.  When he and Nancy Hollander  watched Jodie and I play them in the scene in which they meet, they held hands and cried – it was very moving."  
Deborah Meaden, talking about the upcoming brand new series of Dragons' Den on its new BBC One home, says, "One thing I have learnt in 15 series is to wait beyond the first impression – sometimes people walk through the doors and I think, 'You have to be kidding,' and I end up investing."
Asked if the pandemic has changed the ideas people are pitching, she says, "It's really interesting because some people have had a business idea and have left jobs to give it a go, which I think is great.  What we want are ideas for the long term and entrepreneurs that have a vision beyond Covid."
Rob Brydon, talking about resuming his tour of A Night of Songs & Laughter, says, "It will be so emotional on both sides of the equation – we are all audience members as well as performers.  I can't wait to see what it will be like – everyone that goes to a performance this autumn will love it.  This show is a night of funny stories and songs – it is a very happy show and it's the most enjoyable thing I have ever done."
Rob Brydon's tour dates are here.
Laura performs Church Girl live in the studio before joining Graham Norton for a chat.
Asked about her new album she says, "I've taken a different direction and a bit of a risk.  I have grown a bit and perhaps because I'm older I care a little less what people think and I'm less apologetic."
And finally, Graham Norton pulls the lever on Rob, who volunteers to sit in the Big Red Chair on behalf of audience members 
The Graham Norton Show, BBC One, Friday 26th March 10.55pm. Also available on BBC iPlayer.
Next week (2nd April) Graham's guests include Octavia Spencer, Melissa McCarthy, David Schwimmer, Nick Mohammed, Frank Skinner, Michelle Visage and Steps.