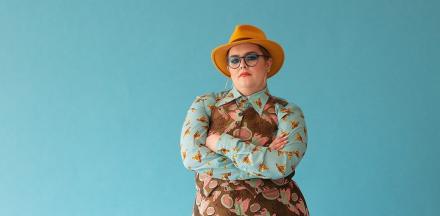 We have all had to adapt in some ways over the last year and comedy journalist Zoe Paskett is no exception. My former colleague on the Evening Standard has launched a regular newsletter, LMAOnaise, pointing comedy fans in the direction of top notch gigs and now becomes a poacher-turned-gamekeeper promoting her first comedy gig with Maddy Bye of comic duo Siblings.
The debut LMAOnaise LIVE comedy night will be live streamed direct onto your screens via YouTube from the Clapham Grand stage on Friday 26th March. Log on at 7.45pm for an 8pm start.
Brace yourselves for a dazzling night of stand-up, drag and the occasional song with a line-up of the finest comedians around right now, making the most of their time outside the house. 
Comic and showstopping singer as recently seen on Comic Relief, Jayde Adams hosts the show, with guests Leila Navabi (creator of BBC Radio 4's BAMESHOW), ex-boyband heartthrob drag king Len Blanco, winner of the BBC New Comedy Award public vote Sikisa, sketch comedy duo Siblings (sisters Maddy and Marina Bye) and Funny Women Awards finalist Jen Ives.
Tickets can be purchased here -  thegrand.info/lmaonaise
Price: £8
Oh and why not subscribe to the LMAOnaise newsletter too here. It's free of course...
Now, as I was saying, about the acts... 
Leila Navabi
Leila most recently made her television stand-up comedy debut on BBC's 'Stand Up Sesh' and has since appeared on BBC's 'The Leak', 'Stand Up In My House' and 'The Size of Us'.
Strong-willed and quick-witted, the Welsh comic is never at a loss for words. In 2020, she created BBC Radio 4's acclaimed comedy special 'BAMESHOW' which was described in The Guardian as 'mould-breaking'. Leila has also appeared on-screen as herself for both MTV and Comedy Central, having worked extensively across their online video platforms.
Len Blanco
Len Blanco is an ex-boyband heartthrob and the drag king of your dreams, if your dreams are recurring nightmares about a desperate Welshman with a bad moustache, a questionable intellect and a deafening back catalogue of shit pop. This washed up frontman is here to tell you what's what when it comes to feminism (you're welcome) and sing a sweet serenade just for you, girl. Wink.
Sikisa
From South London, Barbadian citizen Sikisa has become one of the most exciting acts in the UK, having delighted crowds with her fearless and vivacious personality and immediate warmth and likability.
She won the public's vote in the 2017 BBC New Comedy Award competition, for which she was a finalist. Since then TV appearances include Jonathan Ross' Comedy Club (ITV), The Dog Ate My Homework (CBBC), Pie And A Pint (Comedy Central) and Period Dramas (BBC 3). Her radio credits include Lemonade (Radio 1) and writing for Newsjack (Radio 4). She is also developing a number of projects for TV and radio.
Sikisa was a part of the Soho Theatre Young Company and is a hot favourite on the UK comedy circuit, regularly performing and hosting at nights such as Angel Comedy Club, Top Secret Comedy Club and The Boat Show. She has also created and hosts two amazing female-based live shows, Girl Code which is a comedy chat show and Stand Up for Women which is an annual comedy show raising money for the charity Solace Women's Aid. 
Siblings
SIBLINGS Is a comedy double act featuring character comedians and IRL sisters Maddy & Marina Bye. One from Drama School, the other from Clown School, in the last 4 years they have performed across the UK in festivals and on the live circuit. They have sold out 3 consecutive Edinburgh Fringe runs as well as a sold out extended run at Soho Theatre 2019. In 2020 The Guardian included them as one of 'The Sisters who became ferociously funny comedy duos'.
Jen Ives
Jen Ives has been doing stand up comedy for just over 3 years, and in that time has reached the finals of the Funny Women Awards 2019, been nominated for the Leicester Mercury Awards 2019, placed second in the Laughing Horse New Comedian Awards 2018 & placed in the finals for the 2NorthDown New Comedian Competition 2019. She is also currently writing on a project for Hat Trick Productions.
Originally from South East London, Jen is known for her often sideways look at what it means to be a trans woman in 2020, as well as mischievous takes on her family, LGBT rights, self image & whatever else might be on her mind that day.
Jayde Adams 
Award-winning comedian and proud Bristolian Jayde Adams is an uncut gem; a force of nature; dangerous and unafraid; the future.. it's safe to say that when Dawn French says "Jayde Adams is the 3rd funniest woman in the world. Fact," she might just be onto something. 
Jayde's debut Edinburgh Fringe hour Jayde 31 was nominated for Best Newcomer in 2016, whilst her hugely successful, critically acclaimed 5 star Edinburgh Fringe show 'The Ballad of Kylie Jenner's Old Face' was filmed and released worldwide on Amazon Prime and was renamed Serious Black Jumper.
A regular on our screens, Jayde is the host of Channel 4's high-concept food show Crazy Delicious, and the co-host of the channel's culinary entertainment series Snackmasters, while she brought her cult live musical comedy show Amusical to the screen for the very first time for Comedy Central. Jayde has featured as a guest on CelebAbility (ITV2) Richard Osman's House Of Games, Strictly It Takes Two (BBC Two), Rosie Tries to Help, Roast Battle, Live At The Comedy Store, The Chris Ramsay Show (Comedy Central),  and Russell Brand's Stand Off for Comic Relief (BBC).