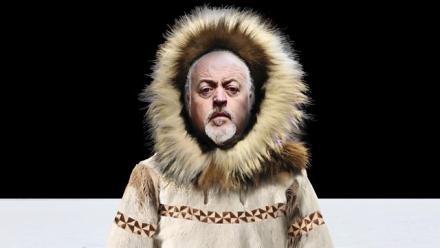 The BBC is screening Bill Bailey's 2015 live show Limboland tonight at 9pm. On BBC One. It's part of the channel's Festival of Funny season but the fact that it is going out on the main channel in such a prominent slot is an indication of Bill Bailey's current superstar status since winning Strictly Come Dancing last year.
Of course there are plenty of fans out there who would have said that Bailey was already a superstar. And this show recorded at the Eventim Apollo – better known as the Hammersmith Apollo – catches him on top form, even if some of the references to the likes of Donald Trump and Jeremy Corbyn make it sound like a period piece. I've been a big fan of Bailey since the 1990s when he was in a double act known as the Rubber Bishops. I even saw his comedy punk band Beergut 100, which featured Bailey, Christian Reilly, Kevin Eldon, Martin Trenaman, Phil Whelans and the late James 'Jim' Miller.
Below is a version of my brief review of Limboland that ran in the Evening Standard in 2015. You can read the original version here.
Rather than opt for a lucrative arena payday, Bill Bailey is performing Limboland for a month in a theatre. I suspect the unassuming stand-up prefers this venue to anonymous enormodomes and judging by last night's rapturous response I'm certain that his audience does.
He hit the ground running with a succinct topical overview. Corbyn's Labour Party is a band releasing an experimental album. Donald Trump is part-honey badger, part-satsuma.
This was a show that hardly put a foot wrong as the offbeat star shuttled effortlessly between anecdotes and musical treats. Stories of teaching his father to Skype and taking his family to see the Northern Lights offered huge laughs and personal insights. His dance remix of the iPhone ringtone was clearly descended from his previous reboot of the BBC News theme, but that did not prevent it from being uproariously funn
As he closed with a deliciously self-mocking tale of being speechless when meeting Paul McCartney it was hard to believe that someone so entertainingly eloquent could ever be tongue-tied.
Bill Bailey: Limboland, Wednesday, March 17, BBC One, 9pm and then on iPlayer.