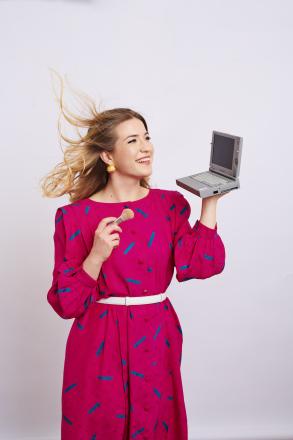 Russia-born comedian Olga Koch is becoming a regular face on British television, having recently appeared in shows including Mock The Week, QI and Pls Like.
This interview was one of the first major newspaper interviews she did. It appeared in the Evening Standard in June 2018, which was very much her breakthrough year. Koch went on to pick up an Edinburgh Comedy Award Best Newcomer nomination for her show Fight (Koch Fight - geddit?), which later became a BBC Radio 4 special. Since then she has recorded a new four-part radio series which should hopefully see the light of day sometime this year.
You can read the original interview here. The original headline in the print edition was "From Russia With Laughs".
Update: Olga Koch is on Richard Osman's House of Games from August 16 - 20, BBC Two, 6pm.
The Edinburgh Fringe launches its programme today (editor's note, this was back in 2018) and while there is everything from theatre and art to dance and ballet in the bible-sized brochure, it is dominated by comedy, with 1,230 shows. There is only one show, however, which sounds like a hybrid of a John le Carré novel and an episode of Charlie Brooker's Black Mirror.
Olga Koch's debut, Fight, looks set to be one of the talking-points of the Fringe. The 25-year-old Russia-born east London-based comedian is itching to talk all about it but also doesn't want to spoil some of the show's surprises, which hinge on a trip her father Alfred took to Moscow airport in June 2014.
He was stopped by border control, missed the flight, booked another, but never checked in. To find out more you will have to see the show. Needless to say, with Russia constantly hitting the headlines, it is not just a history lesson; it also feels eerily topical.
Fight paints a picture of Russia's roller-coaster years from the collapse of Communism to the rise of Vladimir Putin. Through a series of bizarre circumstances Alfred Koch became deputy prime minister responsible for privatising state-run industries. The process makes Brexit seem like a picnic: "The trouble was they were dismantling things without having anything to replace them."
Her father was appointed by President Boris Yeltsin, who replaced Mikhail Gorbachev. By a neat coincidence I remember that day well. It was August 19, 1991, my first day at the Fringe. I remember seeing Yeltsin on TV making a speech on a tank. Koch laughs: "Then you knew more about it than they did in Russia. It was not reported." 
Koch was born in St Petersburg in 1992 and lived through the subsequent "crazy chaos". As she explains in Fight, with the aid of some hilarious archive footage, suddenly advertising flooded into Russia as Communism was replaced by the free market. Where there were once generic adverts for basic products such as jam, now everything under the sun could be promoted. Gorbachev himself went on to appear in a Pizza Hut advert.
"We'd never seen everyday things before like tampons and tea bags," laughs Koch. "My mum's friends saw an advert for McDonald's for the first time and it blew their mind. Why would anyone put a sandwich in a box? And why did the cups have straws?"
The fledgling democracy had a lot to learn. "Some of the election candidates didn't realise they had to put their name on the posters. There was one man, well into his forties, in a heavy-metal T-shirt with the slogan, 'I'm Just Like You'. I think he came third." The idea for the show is to turn a period of great historic change into comedy. "To find the funny in a story that isn't funny."
Koch came to England when she was 13 and her parents sent her to The American School in England, Surrey. Having gone through a seismic culture shock in Russia there was another one in store at school. "I realised how conservative I was. I had a lot of catching up to do." At least she spoke good English, having binged on The Simpsons and Friends, when Russia got the shows long after everywhere else.
She always wanted to be a comedian. After school she went to university in New York to study computer science and joined influential sketch group Upright Citizens Brigade. "I decided to do sketches because I was too scared to do solo stand-up." But once she tried stand-up on her own she was hooked.
Since returning to London four years ago she has been making waves, reaching the Amused Moose National New Comic Award final at the Fringe last summer. She recently filmed an appearance for Comedy Central's The Stand Up Show to be broadcast later this year.
Her tough, uncompromising wit and quickfire confidence make her stand out on the circuit. Earlier this year Koch took part in the inaugural East European Comedy Festival alongside comedians from Poland, Romania and Slovenia. She has tried performing in her native language but it doesn't work: "We have too many words, the rhythm is all wrong and you can't do wordplay." English, she says, is easily the best language for comedy.
But being Russian adds pressure. "When I was studying computer science there were not many girls studying it so every mistake I made was seen as a mistake a woman made. It used to be similar in comedy. I think we've got over that but now it feels as if when I go onstage I'm speaking for all Russians." 
Her comedy is also about more familiar topics such as relationships. She recently made a short film, Olga Koch Has Her Cake, in which she constructed an ex-boyfriend out of dough and attempted to eat him. After stuffing her face she ended up suffering for her art and being sick.
"My secret dream is to have a retrospective at the Museum of Modern Art in New York," she says. New York will have to wait though. Before then Koch is going to stage her own Russian revolution in Edinburgh.