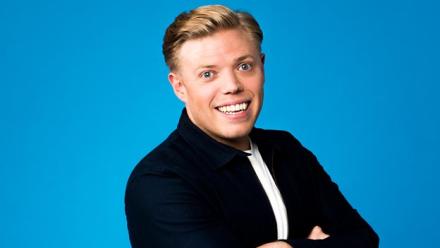 On tonight's show (12th March) Graham welcomes Hollywood stars Jennifer Garner and Amy Poehler, American singer-songwriter Nick Jonas, Call the Midwife's Leonie Elliott, comic Rob Beckett, and British singer-songwriter Tom Odell. 
Rob Beckett talks about his hit podcast Lockdown Parenting Hell with Josh Widdicombe. He says, "It's surprised us really.  Josh (Widdicombe) and I have young kids and basically, we were just complaining about how bad it was.  People really like it – even those without kids.  If you've got kids it makes you feel better that you are not doing it wrong or badly, and if you haven't got kids, you're justified in your decision not to have them!"
Asked if, now children have gone back to school, the podcast will come to an end, he jokes, "I think we will keep it going just in case!"  Adding, "Genuinely, we love doing it and we will carry on.  We've built a community of people and I think my failure as a parent makes people feel better about themselves – I am happy to be the low benchmark!"
Amy Poehler joins Graham from LA for a chat about Moxie, her new rebellious high-school comedy.
Talking about the film, she says, "The genre is a great place to have discussions about big things and big feelings and I was drawn to the fact it's about young women trying to find their voice and come together and make change happen.  Everyone that worked on the project remembers what it was like to be in high school.  So much has changed and yet nothing has changed at all – we are all still trying to figure out who we are."
Asked about her children watching Parks and Recreation, she says, "It was really cool to go back and watch it with them and I think a lot of people went back (during lockdown) to comfort shows they could depend on.  It's so awesome."
Revealing that some of the plots of the series appear to mirror real life, she says, "There are a bunch of episodes where the town has to be shut down because of a flu going around, and there is one where we have to do this training because the whole country got bird flu!  When I was watching I thought, 'Wow, this is hitting close to home, this is a little too real!" 
Jennifer Garner joins Graham from Santa Monica to chat about her family comedy Yes Day. "It was so much fun to shoot, and I think in watching it you can feel our fun in making it."
Asked about being forced to overcome some of her own fears to shoot the movie, she says, "Here's the ridiculous thing, I developed and produced this film so you'd think I wouldn't put terrifying things out there!  Riding on rollercoasters is something I loathe, and we lost most of the take as it wasn't useable because I was crying and screaming 'Jenna! Jenna!' – her character's name was Katie!"
Nick Jonas, talking about this new album Spaceman, which is released today, says, "Like everyone else I was locked up at home thinking about what I was going to do with my life, so I wrote music over Zoom with my producer.  We locked in on my personal experience, but it became a universal concept about what it is like being disconnected from the world.  I was away from my wife for about two months and the music helped me work through missing her and feeling alone in general.  The album came out of that and here we are!"
Asked about his solo career and working with his brothers, he says, "They are some of the first people I go to for feedback because they are trusted advisors as well as friends and bandmates.  When we came back together after we had split up for five or six years, we said we should lean into the fact that we are all individual people and with our own stories to tell.  We're all doing our own thing now while actively working on Jonas Brother stuff.  It feels good for all of us and is the mature approach to things as opposed to the somewhat immature approach we had before." 
Leonie Elliott, talking about the return of Call the Midwife and playing the show's first West Indian midwife, she says, "My grandparents are from Jamaica so I fact-checked the scripts with them and my granddad lets me know if things would have happened in certain ways or not.  They watch it and love it but take it all in their stride."
Asked about working with the irrepressible Miriam Margolyes, she says, "She is a very interesting person – if you have a story, she'll always trump it!  She's an amazing actress and a great storyteller."
Tom Odell performs Monster live in the studio before joining Graham for a chat. Revealing the single was re-written just hours before the album was due to be uploaded, he says, "It's a different version than it was a week ago because I realised I hated it.  My manager gave me 24 hours to re-write it.  I'd started talking about the anxiety and panic attacks I'd had, and the song is about trying to overcome that.  Ironically, it's caused me more anxiety and panic attacks writing the song!  I am really pleased I did it though because it is about something raw and it's about something a lot of people have gone through."
Congratulated on his lockdown engagement, he says, "She's the love of my life and I love her to pieces.  I am the luckiest man in the world – I feel very lucky."
Rob volunteers to sit in the Big Red Chair on behalf of audience members telling their funniest stories from the comfort of their own home. 
The Graham Norton Show, BBC One, Friday 12th March 10.45pm. Also available on BBC iPlayer.