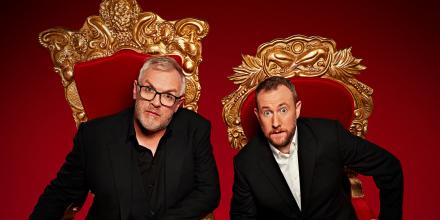 Alex Horne's BAFTA winning format Taskmaster has been picked up for a second original series in New Zealand for TVNZ following ratings success. The popularity of Taskmaster continues across Australasia with BBC Studios Australia and TVNZ picking up series ten of the award-winning UK original.
Taskmaster NZ, starring Jeremy Wells as the formidable Taskmaster and Paul Williams as his loyal Assistant, became an instant hit and was the highest rated programme in its prime time slot with its premiere in October 2020. Increasing the channel's audience by 19% in the 25 – 54's, and more than doubling the 15-34 category compared to next nearest channel, the show won it's slot with a share of 35.9% and reached more people than any other local comedy series on air in 2020. Series two of Taskmaster NZ will air on TVNZ 2 later in 2021.
As well as the original series recommission, TVNZ have picked up series ten of the award-winning UK original for their Duke channel, as well as the upcoming series 11 which is set to air later this year. 
Along with picking up Taskmaster series ten, BBC Studios Australia have also bought the one-off special Taskmaster's New Year Treat for its entertainment channel UKTV, home to the Taskmaster UK catalogue along with SBS Viceland in Australia.
The original Taskmaster programme has been sold to 94 countries, while the format has been sold to 12 with 150 local episodes being made outside the UK which have seen huge success. The Swedish version won Entertainment Programme of the Year at the Kristallen in 2019 and again in 2020 (Sweden's TV Academy Awards) and the fourth series for SVT reached ratings of over a 50% market share in a primetime weekend slot. A second series has been ordered for MTV in Finland after its first episode ranked in the top ten most watched shows in the country, and there are returning series for TV2 in Denmark, and Discovery in Norway which won the Norwegian TV Academy Award (Gullruten) for Best Entertainment in 2020, as well as local versions produced for VTM in Belgium and TVE in Spain. 
Closer to home, series ten of Alex Horne's original Taskmaster launched in its brand-new slot on Channel 4 and enjoyed its best performance on record. It reached top ratings of three million consolidated viewers and won the young share of the 16-34 demographic, attracting more than two million additional viewers from its previous ninth series premier on Dave, and making it "the best performing new entertainment show of this year" (Broadcast).