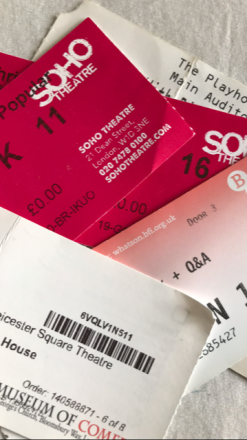 As life starts slowly but surely to return to normal in 2021 I'm getting excited. There are clear hints of green shoots of recovery when it comes to comedy, with clubs and promoters talking optimistically of proper gigs starting up again. Maybe firstly outdoor, then indoors but socially distanced. And then, who knows, maybe by the end of the year there will be comedy gigs as we so fondly remember them again.
It has certainly been an interesting year for comedy performers. Stand-ups have proved themselves to be a resilient, inventive bunch and were some of the first people out of the blocks to put out new content online using various forms of social media last year. Then again they didn't have much choice when gigs disappeared overnight. They suddenly had a lot of time on their hands.
You can order a take away meal online. You can buy a new book online. You can play something online like Casimba. Comedy gigs online are probably here to stay even if it is different to flesh and blood gigs. 
I've seen online shows where fans heckle from the comfort of their sofas and it is not the same as seeing a stand-up expertly skewers a heckler in front of a flesh and blood audience. It is always fun to watch a show-off in the live audience shrivel like a salted snail. 
Onstage a comedian has to think on their feet to silence a heckler. Online they could cheat and glance at their notes. It is a particular skill onstage and getting the tone right is part of the professional comic's armoury. If they engage too much it can become a conversation that distracts from the set, if they engage too little it might not shut them up. The weird thing is that while sometimes hecklers genuinely think they are helping the gig go well. No comedian has ever thanked a heckler for making the gig better as far as I know.
So maybe one thing I haven't missed in the last year is hecklers derailing gigs. But boy, have I missed actually going to a gig. Just walking into a comedy club is a special thrill for me. Last summer I went to a drive-in comedy gig. And I have to be honest. while the comedy was great, it was not as exciting driving into a car park in south London, turning off the engine and then staying in the car and listening to the set over the radio. The only good thing about drive-in comedy gigs was not having to worry about finding a parking spot.
Comedy clubs are a special place where the magic happens onstage only a few metres away from you. Or even closer if you dare to sit in the front row. As much as I love comedy clubs i used to prefer to sit in the second row from the front. Although this can backfire. I remember one gig where I sat in the second row and as the venue filled up, nobody decided to sit in the front row, so when the comedian came on he removed the chairs from the front row and I suddenly found myself in the front row. And, of course got picked on by the comedian.  
I think after this embarrassing incident I decided I'd rather sit closer to the back of the room and be more anonymous. At the moment though i can't wait to be back in a comedy club. I'd even sit on the front row if it was the only way to see live comedy again.
Sponsored post