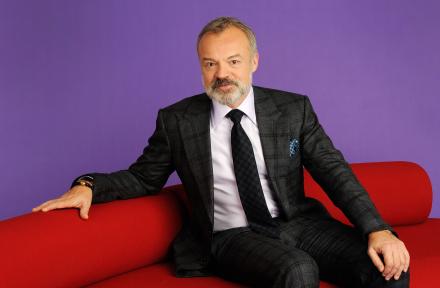 On tonight's show (5th March) Graham welcomes Breaking Bad star Bryan Cranston, Line of Duty stars Vicky McClure and Adrian Dunbar British actor Chiwetel Ejiofor, Star Wars' Daisy Ridley, and singer songwriter Imelda May.
Bryan joins Graham from LA to chat about his new TV drama Your Honor. 
Asked about playing a New Orleans judge who covers up his son's crime, he says, "It's the worst nightmare of any parent for something to happen to your child and this really gets under the skin of everybody.  It's a wild ride.  I just didn't think there was enough anxiety in our society today, so I'm giving you more!" 
Talking about coming back to filming the show after the initial lockdown, he says, "It was terrible and very difficult working under COVID protocols.  I'm 65 years old and I've been to my fair share of rock concerts and I know I have lost some hearing, so trying to hear what people are saying through masks is challenging!"
Asked about Breaking Bad, and whether he took any memorabilia from the show, Bryan dons Walter White's trademark porkpie hat and sunglasses and says, "I managed to nick these!"  
Adrian and Vicky chat about the success of Line of Duty and the hotly anticipated sixth series. 
Vicky, talking about the 13 million viewers that tuned in for the last series, says, "It's mad!"  Adrian adds, "It was a slow burn.  The first series was great, but we didn't know we would get a second one. Then we got a second one and halfway through that suddenly the numbers built and since then it's just taken off – it's big and the anticipation is massive.  It's intense."
Asked if they can reveal anything about the plot, Arian says, "18 months have passed so the landscape has completely changed.  We are starting from a place that the audience will probably find a bit shocking at first.  Things and people have been moved around so the first episode is going to be one of those 'head-wrecks' for the audience."
Vicky, asked about putting off her wedding plans because of the pandemic, says, "We didn't get married, but we haven't even booked it.  I'd marry him tomorrow, but we've never got around to cementing the plan.  We will probably end up at Gretna Green!"
Chiwetel, talking about his new romantic comedy heist movie Locked Down, says, "It took us 18 days to shoot – it was really quick, and we rattled through it.  It was incredible to be able to work during the lockdown and it changed the experience for me. We were only able to do it because everyone was so conscientious."  
Explaining the behind-the-scenes photos that show him and Anne Hathaway wearing each other's lines on their bodies, he says, "I thought from the beginning that because there were so many lines, we couldn't learn them all in such a short time and we would have to come up with a couple of tricks to get through it.  I had seen that in The Godfather Marlon Brando had his lines held up by other actors so I showed that to Dough Liman (director) and Annie and said, 'At some point this is what is going to have to happen,' and it came to pass!" 
Daisy, talking about her new sci-fi adventure Chaos Walking and one particularly challenging scene, she says, "There are two times when I thought I might die in water – one was during the film's river scene and one was in a theme park in Prague – both times the water was really fast, and I inhaled it.  It was really scary."
Revealing how she kept herself busy during lockdown, she says, "I did a course on how to be a doula.  It was a really amazing thing to do and so beautiful.  It was great, but I'm am not actually going to do it." Adding, "But, I would love to support someone have a baby." 
Responding to rumours of her being cast as Spider Woman, she says, "It's funny, I did this chat with a lovely woman and she asked me if it was true – it was the first time I'd heard of it and then the next day people kept texting me about it and it keeps being brought up – there are a million other people who could do it, but perhaps I can will it into existence!" 
Asked if she misses being in Star Wars, she says, "I actually feel grown up now that I am doing other things.  It's so nice."
Imelda performs Made to Love live in the studio before joining Graham for a chat about her new album.
And finally, Graham pulls the lever on Daisy who volunteers to sit in the Big Red Chair on behalf of audience members telling their funniest stories from the comfort of their own home. 
The Graham Norton Show, BBC One, Friday 5th March 10.45pm. Also available on BBC iPlayer.
Next week (12th March), Graham's guests include Jennifer Garner, Minnie Driver, Nick Jonas, Leonie Elliott, Rob Beckett and Tom Odell.
Graham Norton Image Credit: BBC/So Television/Christopher Baines