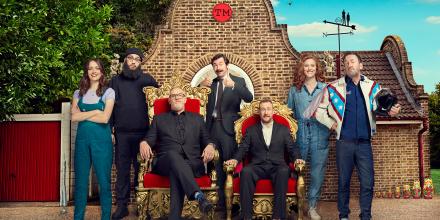 BAFTA-winning Taskmaster returns to C4 at 9pm on Thursday March 18th. Starring Greg Davies perched on his regal throne, and Little Alex Horne diligently taking notes to determine who will be the next Taskmaster champion.
A quintet of quivering comics sit in awe and fear, wondering if their resourcefulness, dexterity and creativity will be enough to impress the formidable Taskmaster. Series 11 will see actor Charlotte Ritchie (Ghosts, BBC One), acclaimed stand-up Jamali Maddix (Hate Thy Neighbour, Vice), BAFTA-winning comic Lee Mack (Not Going Out, BBC One), actor, writer, and comedian Mike Wozniak (Man Down, Channel 4), and BAFTA-nominated actor and comedian Sarah Kendall (Frayed, Sky One) battle it out in a series of stupefying tasks testing their ingenuity, and weeding out their stupidity
Taskmaster is a BAFTA winning and International Emmy nominated comedy game show originally created by Alex Horne. Greg Davies stars as the all-powerful "Taskmaster" who, with the help of his loyal assistant Horne, sets out to test the wiles, wit and wisdom of five comedians through a series of strange and surreal challenges in what is the most hard-fought and ridiculous comedy entertainment format on TV.
95 episodes have been produced in the UK so far, with a further 41 ordered by Channel 4 as part of a landmark six season deal in 2020. Series 10 – 15 air on Channel 4 from Autumn 2020, following nine record-breaking series on UKTV's Dave.
The show enjoyed its best performance on record with it's Channel 4 launch which reached 3.9 million consolidated views after the first episode, winning the majority share of young viewers 16 – 34's and making it the best-performing new entertainment show of this year (Broadcast, 2020). Since the programme's initial launch in 2015 on UKTV's Dave, Taskmaster's audience has grown by 80% from series one to series nine.
Taskmaster was crowned Best Comedy Entertainment at the BAFTAs 2020 and won Best Entertainment Programme at the Broadcast Awards 2018, having previously received two more nominations for both awards. It has also been nominated for Best Entertainment Programme at the RTS Awards, Broadcasting Press Guild Awards, the Broadcast Digital Awards, and the TV Choice Awards.
Taskmaster returns to C4 at 9pm on Thursday, March 18th.