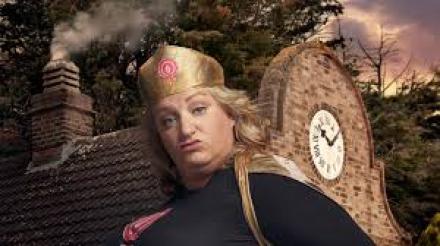 This Country's Daisy May Cooper has written a memoir.
Don't Laugh, It Will Only Encourage Her will be published in hardback on 28th October 2021.
The synopsis gives a flavour of what is in the book: "In addition to the hilarious storytelling we know and love from Daisy, her first memoir will give an insight into life before fame, and illustrate that there is more to her than the funny woman the nation has taken to its heart. Growing up in rural poverty in Gloucestershire with her brother, Daisy had to work a myriad of low-paid, unrewarding jobs just to make ends meet. As Daisy herself says, this endearingly honest and achingly funny memoir is definitely her, 'weird way of coping … trying to turn the bleakest situation into a positive'."
Cooper said: "When things were really bad, Mum would always say to me, 'Don't worry, it will be a good read for your memoir one day'. Well, it seems that one day is today! I have lived the most humiliating, ridiculous, screw-up of a shit-storm life and it has been an utter joy digging up all that shit and putting it down on paper. Therapeutic even. I'm writing this memoir because I owe it myself to tell this story. I also really the need the money as we've got an ant infestation that needs sorting."
As well as playing Kerry Mucklowe in This Country Cooper was also on Taskmaster last year and is currently one of the comedians doing the commentary on new Sky series Dating No Filter.
Charlotte Hardman of publishers Michael Joseph said: ''Daisy had already taken her place in our hearts with 'This Country' but she has also become Instagram and TikTok's stand out star during this past strange year.
Pre-order Daisy May Cooper's Don't Laugh, It Will Only Encourage Her here
Picture: Daisy May Cooper in Taskmaster/Avalon/C4. Taskmaster returns to C4 for a new series with a new line-up on March 18.