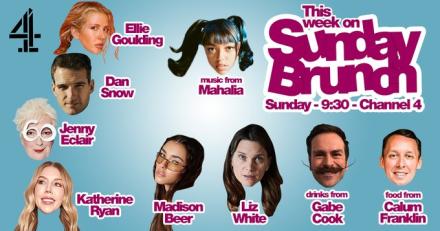 Comedians Katherine Ryan and Jenny Eclair join the Sunday Brunch line-up this week.
Ryan will be talking about her new tour, Missus, which looks set to start this September, Covid-19 permitting. Ryan also has her first book out, entitled Audacity, and published by Blink on September 30.
It will tell the story of Ryan's rise from working in Hooters to being one of the biggest comedy stars in the UK, having her own hit shows on Netflix, from stand-up shows to comedy The Duchess, and performing sell-out tours.
Chapters will include How to Potty Train Your Baby at 10 Months, How to Cut Off Your Racist Aunties, How to Marry Your High School Boyfriend and How to Co-Parent when you're a Single Mum.
Ryan says: "While I've been very blessed to have worked in comedy for over a decade, The Audacity gives me the opportunity to connect with people more fully and honestly than a panel show allows. I've learned to be a sharp-shooter on stage, but there are so many stories that I'm eager to tell in more sincere, longer form. I hope it gives people a laugh, an insight, and hopefully some encouragement on how to live their most fulfilled, authentic lives."
You can buy tickets for Ryan's tour here.
Jenny Eclair will be chatting about being the host of her new weekday TV art show, Drawers Off, which starts on Monday at 5.30pm on Channel 4. Her book, Older and Wider: A Survivor's Guide To The Menopause is fresh out in paperback. Buy it here.
In Drawers Off the phrase 'life-drawing' takes on a new meaning, as five amateur artists take it in turns to shed some clothes and strike a pose for the others to capture on canvas. After the art session, overseen by art mentor Diana Ali, the model of the day then comes face to face with four often very different artistic interpretations of themselves, and chooses the winner. At the end of the week, the five winning portraits then go head-to-head in the Winner's Gallery, before all artists vote to decide the Drawers Off winner and recipient of the £1,000 prize.
This week's Sunday Brunch will also feature singer Ellie Goulding, history guy Dan Snow, new sensation Madison Beer, plus Liz White and music from Mahalia. With drinks advice from Gabe Cook and food tips from Calum Franklin.
And, of course, the whole shebang will be held together by those weekend partners in banter, Tim Lovejoy and Simon Rimmer.
Sunday Brunch, Sunday, February 28, 9.30am, C4.