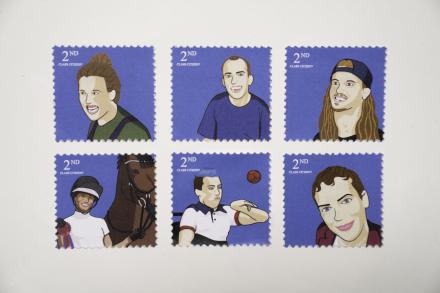 A charity has unveiled a set of mock 'Second Class Stamps' featuring six personalities from the worlds of comedy, acting and sport: comedian Rosie Jones, comedian Francesca Martinez, actor James Moore, Britain's Got Talent winner 'Lost Voice Guy' Lee Ridley, Paralympian David Smith MBE and para-Dressage rider Tegan Vincent-Cooke – all of whom have Cerebral Palsy (CP).
The 'stamps' have been launched to raise awareness of how adults with CP are treated like 'Second Class Citizens' when it comes to healthcare.  Charity Adult CP Hub is asking the Government to 'stamp out' this inequality and insisting the NICE (National Institute for Health & Care Excellence) guidelines are adopted, to improve life for the 130,000 adults in the UK living with CP. Or, in short they want, Care Parity for CP. The charity calculates the gross economic employment benefit of stamping out the gap in healthcare provision is £422mn. 
NICE guidelines already exist for England, Wales and, effectively, Northern Ireland but the government has yet to adopt them across the NHS. In Scotland, no SIGN guidelines (equivalent to the  NICE guidelines) even exist for adults with CP - an even further inequality in care parity.
Emma Livingstone from Adult Cerebral Palsy Hub, the charity behind the campaign, which inputted to the NICE quality standards for adults with CP, explains: "Adults with CP are treated like second class citizens when it comes to healthcare. We do not get joined-up healthcare like other adults with life-long conditions and there are no clear care pathways. At the age of 18, we are basically just told to 'get on with it'. NICE guidelines have been developed recommending this is changed to provide joined-up healthcare with dedicated CP specialists, which is what happens for other long-term conditions. However, the guidelines have yet to be adopted across the NHS. Our campaign aims to 'stamp out' this gap." 
Conservative life peer Baroness Stephanie Fraser of Craigmaddie, who is also Chief Executive of charity CP Scotland, which also inputted to and supported the development of the NICE guidelines, is supporting the campaign. She adds: "The answers to closing this gap already exist. There is absolutely no reason not to adopt the NICE guidelines and there is also no reason not to adapt those to SIGN guidelines for Scotland and adopt them."
The mock stamps, featuring illustrations of six leading personalities from the world of comedy, sport and acting, were designed by Eve Lacey, 28 from Essex who is a professional Orthoptist and keen illustrator. She has first-hand experience of the difficulty of moving from joined-up paediatric CP care to the 'cliff edge' where support simply ends for adults. The stamps have been designed to both raise awareness and act as 'the world's smallest petition', with the reverse featuring Adult CP Hub's simple request, Care Parity for CP. Small touches, such as the use of purple to denote the value of the 'purple pound' and green to represent CP give further powerful messages.
Emma adds: "We're asking for something incredibly simple: Care Parity for CP. It can literally be written on the back of a stamp, it's the world's smallest petition. In simple terms it means: specialist services for adults with CP, adoption of the NICE guidelines and quality standards universally across all the NHS services. This change will deliver a huge impact for adults living with CP and for the NHS and the economy. We believe an investment of £20mn into joined up healthcare for adults with CP could give £422mn back to the economy in gross employment benefits. At a time when the healthcare system and economy is under unprecedented pressure, this actually offers a way to save money."
The public is being asked to visit https://you.38degrees.org.uk/petitions/care-parity-for-adults-with-cerebral-palsy and sign the charity's petition.
By World Cerebral Palsy Day on 6th October, the charity hopes to have 100,000 signatures so the issue can be discussed in Parliament. Subject to lockdown restrictions, it will also deliver its 'petition on a postage stamp' to Downing Street.
Comedian Rosie Jones says:  "I'm shocked and concerned at the gap in healthcare for people CP versus other life-long conditions. It is discrimination versus other conditions, and we must change this."
Comedian Francesca Martinez adds: "Adopting these guidelines will greatly benefit not only wobbly adults but also wider society. I hope everyone will get behind this campaign and see that this one simple change will make a huge difference."
Britain's Got Talent winner, comedian Lee Ridley aka 'Lost Voice Guy' adds: "Please: stamp out the gap. Sign this petition and help adults with CP get care parity." 
The campaign can also be supported by following @adultcphub and using #StampOutTheGap
Picture shows mock Second Class Stamps featuring celebrities supporting the #StampOutTheGap campaign. Care parity for CP!. Picture credit: CPG.