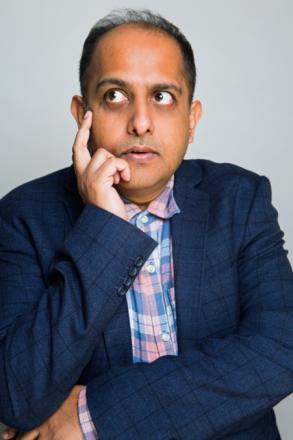 One of India's most popular comedians Anuvab Pal is launching a brand new pilot for BBC Radio 2. The Empire will broadcast on Sunday 7th March 2021 at 9.30pm.
The Empire is set in Darjeeling, India, 1917. James Albright (Alexander Owen) - 23, fresh out of Oxford - has been sent out to be the new District Magistrate, overseeing the lives of three million people about whom he knows absolutely nothing. Armed with just his Empire-issued rulebook, he must navigate the schemes of Mrs Campbell (Michelle Gomez), the local British businesswoman who may or may not have fed her husband to a tiger; Harbans (Anuvab Pal), the Indian assistant district magistrate who desperately wants to be British; and the pro-independence young woman Sapna (Rasika Duggal), whom Albright might be infatuated with, which would result in certain death at the hands of the Viceroy (Stephen Fry).
The Empire is produced by Ed Morrish for Channel X. 
The Times of India lists Anuvab among India's top five English speaking comedians, having played over 750 shows and sold out houses across India, the Middle East, Singapore, Hong Kong, San Francisco, SXSW, Laugh Boston and New York. In 2016 Anuvab was chosen among the top comedians in India to have a comedy special released on Amazon Prime Video to coincide with the launch of Amazon India, and in the same year, he joined the hilarious pan-global satirical podcast The Bugle alongside Andy Zaltzman, with whom Anuvab co-created BBC Radio 4 comedy series, Empire-ical Evidence in 2018. 
Anuvab is a prolific writer and was the screenwriter of the Bollywood films Loins Of Punjab Presents and The President Is Coming, both of which have screened at leading film festivals around the world. He is also the author of four stage plays, 1 888 Dial India, The Bureaucrat and Chaos Theory, which have become bestselling novels published by Random House and Picador respectively, and The President Is Coming, which was developed by The Royal Court. He also writes regular columns for The Economic Times and Times Of India.
The Empire will broadcast on Sunday 7th March 2021 at 9.30pm.